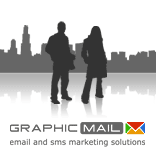 Chinese mailing practices are different from the US and Europe. While there are Internet usage and anti-spam laws there is a cultural passiveness about the inbox, with recipients rarely complaining about spam.
(PRWEB) February 15, 2012
GraphicMail CEO Nicholas Eckert recently visited the company's fastest-growing franchise in Beijing, to discuss issues regarding email delivery, marketing and product requirements for the Chinese marketplace.
Since its launch in 2009, GraphicMail China's sales numbers have been consistently above initial forecasts by about 20-30%, with an additional 50-75% growth estimated for 2012.
Partnered with NewEnlighten Business & Information Consulting Co. Ltd, GraphicMail is one of the top international players in the Chinese emailing space, with over 80% of the franchise's clientele situated within Beijing and further efforts in place to promote expansion to Shanghai and the Guangzhou region.
From a market placement perspective, NewEnlighten's Director Jason Wang sees the strengths of GraphicMail to be that the company offers relationship-based services that are tailored to local clients and that there are opportunities for additional services that extend beyond what is offered in other countries: "The most important thing to survive in China is to build strong relationships with market stakeholders, such as suppliers, the government and key clients. Sometimes these relationships can be so influential that when you are bidding against another company which is offering a lower quality product at a higher price, you will still lose the contract simply because the buyer always chooses whoever they have the best relationship with. To clients, having a good relationship means they get exclusive special deals, one-on-one sales with 24/7 support, surprise presents for important holidays, and so on. The key to succeeding in the Chinese market is to learn these relationship skills as quickly as possible."
In order to make GraphicMail's offering more competitive in China, NewEnlighten has added a consulting service, which consists of registering and managing domains, building websites, managing email campaigns and providing analysis of email marketing reports.
Given the ironclad restrictions of the country's internet laws, Western-based digital operators face several challenges in synchronizing day-to-day processes with China-based partners:
Standard data-sharing applications such as Google Docs and Dropbox are not accessible in China, since these are blocked along with social networks such as Facebook, Yammer and Twitter. Only government approved and regulated alternatives are available nationally, which has forced GraphicMail to seek other methods of transferring corporate and franchise information to NewEnlighten.
The search engine marketing landscape is also different to what Western companies are accustomed to; NewEnlighten reports that SEO is virtually non-existent, instead, paid advertising on Google-equivalent search engine "Baidu" is a widely favored practice, with videos uploaded primarily to Baidu-owned "Qiyi" and rival channel "Youku" as substitutes to outlawed Youtube.
Client communications and on-boarding of new prospects is also highly differentiated from GraphiMail's Western methods of communication, with online self-help centers of no interest to Chinese clients - who rely solely on direct access to the vendor via personal interaction. Standard public relations and content marketing practices are also not applied by the Chinese franchise, due to the nature of their unique acquisition of new business via personal leads and relationship-reliant networks.
Says GraphicMail CEO Nicholas Eckert: "Chinese mailing practices are different from the US and Europe. While there are Internet usage and anti-spam laws there is a cultural passiveness about the inbox, with recipients rarely complaining about spam. There is an opportunity to educate Chinese firms on how email marketing return on investment is directly impacted through by obtaining permission and proper list management."
GraphicMail's strategy for the coming year is to make further investments in China and to pursue a number of key markets; including ecommerce enterprises, mobile-reliant real estate companies and electronic direct marketing businesses.
About GraphicMail
Quattro Internet Solutions (Ltd) t/a GraphicMail is a hosted email marketing solution which lets users design beautiful emails, manage contact lists and track their campaign performance. The platform provides seamless email marketing and publishing features that are easy and affordable enough for small businesses, but powerful enough for large companies looking for a corporate-scale solution. GraphicMail has been used by customers such as, Shell, the American Medical Association and Dell Empower since 2002. The product is available in 10 languages and is represented by over 17 offices globally.
###