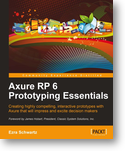 Birmingham, UK (PRWEB) February 14, 2012
Axure RP 6 Prototyping Essentials, published by Packt, is an introductory text to this leading wireframing and rapid prototyping tool. Written by Ezra Schwartz, this book demonstrates how Axure can be used to produce top-quality deliverables and tackle the demands of rapid iterative UX projects of any complexity and size, and for any platform and device.
Axure RP is a wireframing, rapid prototyping, and specification software tool aimed at web and desktop applications. It offers capabilities typically found in diagramming tools. Axure RP can then generate HTML prototypes and Microsoft Word specifications from the diagrams.
The book takes a very pragmatic approach to showing readers how to use Axure and produce impressive deliverables while saving labor and time. It starts off with an introduction to Axure's user interface, terminology, and features followed by a walk through a medium-size UX project. The author uses this demo project to discuss topics such as addressing business and technical requirements, handling use cases and flow diagrams, low and high fidelity wireframe construction, interactivity, writing annotations, generating detailed UX specifications, and traceability.
Using Axure RP 6 Prototyping Essentials readers will learn to construct well formed wireframes, manage iterative design workflow and create custom widgets and libraries for interaction and visual design patterns. Further, they'll also be able to plan and organize a prototype to support complex, multiple-phased projects along with getting a better understanding of Axure's collaboration features.
This hands-on, detailed and practical primer is designed to help readers integrate Axure into their UX workflow. The book is a must have for UX practitioners, business analysts, product managers, and anyone else who is involved in UX projects. Readers are expected to be familiar with the principles of the User Centred Design methodology. To read more about it or download a sample chapter, please visit the book web-page.
Axure RP 6 Prototyping Essentials is available in print, eBook and now on Packtlib: Packt's online library with instant access to over 700 books.
###