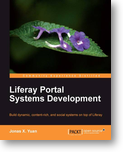 Birmingham, UK (PRWEB) February 17, 2012
Packt is pleased to announce the publication of Liferay Portal Systems Development, aimed at Java developers who want to build custom web sites and WAP sites using Liferay portal 6.1. Written by Dr. Jonas X. Yuan, who has previously written three titles dedicated to Liferay, for Packt Publishing, this book is an essential read for developers who wish to improve their knowledge of one of the most mature portal frameworks in the market.
Liferay Portal is the leading open source enterprise portal, available under the GNU Lesser General Public License. Including a built in web content management system as well as multiple social collaboration services, it is used in diverse situations often to power corporate intranets and extranets and external websites. Liferay Portal is Java based but supports multiple scripting languages, and runs on multiple computing platforms, web containers, operating systems and databases. Liferay has a very large community with roughly four million downloads and 350,000-500,000 worldwide deployments.
Liferay Portal Systems Development starts off with building basic and advanced MVC portlets with the Service-Builder and RBAC permissions. This is followed by topics such as using Ext plugins and Hook to perform custom actions to the portal, managing images, documents, videos, audio, and records using the Document and Media Library and record management. Developers will learn how to make all of their organization's data and web content easily accessible by customizing Liferay into a single point of access.
The book takes the reader through kernel features such as staging, scheduling, remote publishing and more to improve their portal. They will learn to create a collaborative and social API complete with Ratings, Comments, Subscriptions, Collaboration, Social Equity, and Asset Links. Building WAP mobile-based applications and leveraging diverse portlet bridges like JSF, Struts, and Spring MVC are also covered in this practical guide.
Liferay Portal Systems Development concentrates on teaching by clear, practical examples, screenshots, and step-by-step instructions. This book is apt for both experienced and novice developers with no prior knowledge of Liferay portal. It is available now! For more information, please visit here.
Some of Packt's earlier Liferay titles amongst others include:
Liferay Beginner's Guide
Liferay User Interface Development
###