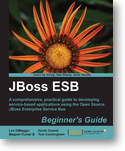 Jboss
Birmingham, UK (PRWEB) February 21, 2012
Packt is pleased to announce the release of JBoss ESB Beginner's Guide, an introductory text for all the Java programmers who want to develop their own service-based applications, from simple deployments through to complex legacy integrations. Written by Len DiMaggio, Kevin Conner, Magesh Kumar B, and Tom Cunningham; this beginner's guide is packed with numerous working examples for easy comprehension.
JBoss ESB is the next generation of EAI - better and without the vendor-lockin characteristics of old. As such, many of the capabilities mirror those of existing EAI offerings: Business Process Monitoring, Integrated Development Environment, Human Workflow User Interface, Business Process Management, Connectors, Transaction Manager, Security, Application Container, Messaging Service, Metadata Repository, Naming and Directory Service, Distributed Computing Architecture.
The book starts off with installing, configuring, administering, starting and stopping the JBoss Application Server (AS) and then deploying JBoss ESB onto JBoss AS and debugging application failures. Readers will then proceed to build custom JBoss ESB applications with its out-of-the-box actions or their own action code and use a service registry to provide access to the services, store and access the metadata. Detailed examples will show programmers the tools that can be used to build re-usable and maintainable service-based applications with JBoss ESB.
Using JBoss ESB Beginner's Guide readers will be able to integrate custom application with other applications with the help of JBoss ESB gateway listeners and use other JBoss open source projects such as the JBoss AS and JBDS with JBoss ESB to create, deploy, and administer services. The final chapter of the book will help the reader understand how to incorporate existing web services with their applications' services over JBoss ESB.
Part of Packt's Beginner's Guide series, each chapter contains practical examples with step-by-step instructions and plenty of screenshots to guide through the implementation of JBoss ESB. This book is apt for Java programmers with no prior knowledge of application servers or ESBs required. To read more about it or download a sample chapter, please visit the book web-page
JBoss ESB Beginner's Guide is now available as print book, eBook and as part of PacktLib: Packt's online library with instant access to over 700 books.
###