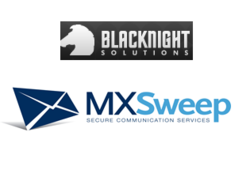 Paul Kelly, CTO at Blacknight, commented, "MXSweep allows us to provide customers with best-of-breed levels of email security. Using the Parallels Automation platform, we are able to efficiently deliver MXSweep services to customers as part of our bundled
Orlando, Florida and Dublin, Ireland (PRWEB UK) 16 February 2012
Blacknight Solutions, a market-leading hosting and co-location vendor based in Ireland, today announced the launch of MXSweep's Email Security services into its growing domestic and international customer base. MXSweep services are available through Parallels Automation, and Blacknight will make Email Security available as a value-added service bundle to customers who need to address email security, compliance and data retention requirements. The announcement was made in Orlando today during Parallels Summit 2012, an event that attracts a global audience of over 1,200 leading participants from across the cloud and hosting industry.
With over 6,000 SME, corporate and public-sector customers in 26 countries, MXSweep is a global provider of on-demand security services, including email security, content control and business continuity, encryption, email and SharePoint archiving, web and mobile security. These services allow users to address Internet security issues by stopping malware threats in the cloud and can be combined with encryption, archiving and mobile security services to protect and retain confidential data. These services allow customers to meet data privacy and retention rules driven by corporate governance and laws such as the Data Protection Act, FRCP, Basel I/II, SOX, HIPAA, PCI and MiFID.
Paul Kelly, CTO at Blacknight, commented, "MXSweep allows us to provide customers with best-of-breed levels of email security. Using the Parallels Automation platform, we are able to efficiently deliver MXSweep services to customers as part of our bundled service offerings, without any overhead in terms of deployment or billing."
"Blacknight is a leading player in the hosted services market, and their use of Parallels Automation provides a perfect platform through which to provision, deploy and bill services efficiently," said Derek O'Beirne, Channel Director at MXSweep. "Our partnership with
Blacknight is another important step for MXSweep as we continue the rollout of our services through Parallels partners globally—and we expect it to be a mutually profitable relationship, as demand for cloud services continues to grow."
"Email Security and archiving are an excellent addition to a service provider's email offering to help them grow revenue," said John Zanni, Parallels VP of Service Provider Marketing and Alliances. "It's exciting to see MXSweep joining the ecosystem of APS-certified applications to help SMBs meet today's mission critical communication needs "
For further information please contact sales(at)blacknight(dot)com or sales(at)mxsweep(dot)com.
About Blacknight Solutions
Blacknight Internet Solutions Ltd (Blacknight) is a 100% Irish-owned company specialising in serving the hosting and co-location needs of business, both large and small. Our servers are based in two of Ireland's leading Data Centres - the Data Electronics Group and Interxion, both in Dublin. Blacknight is growing by leaps and bounds with more than 120,000 domains hosted on our servers. We provide reliable service backed up by support unmatched by any provider in the industry. As a company we constantly seek to lead the way by introducing innovative solutions for our client base. We offer a wide range of hosting solutions to match the needs of any customer. From Linux VPS hosting to colocation - we offer it all. We were one of the first Irish hosting companies to offer virus and content filtering to its clients in 2002. We're proud to be completely based in Ireland - which is the perfect place for European Web Hosting and Colocation. By partnering with innovative companies, like Parallels and Comodo, Blacknight Solutions is able to bring 'best of breed' technologies to the Irish and European markets, while maintaining an aggressive pricing model. If you would like information on any of our products or services, contact us today. Blacknight is a member of the IIA, ISPAI, INEX, RIPE, AFNIC and Nominet. Blacknight is also a Microsoft Certified Partner, holding the Hosting Solutions competency. For further information please visit http://www.blacknight.com .
About MXSweep
MXSweep is a global provider of SaaS Internet Security & Compliance services including email security, content control & business continuity, encryption, email & Sharepoint archiving, web and mobile security to SME, corporate and public sector customers. The cloud services are provided through partners such as distributors, value-add resellers, hosting and telecom companies. We provide our services either directly to the partners or through the leading cloud provisioning platforms, including Parallels. MXSweep provides our partners with a unique commercial offering and a simple entry point into the fastest growing cloud services markets. We provide customers with business-critical Internet security and compliance services requiring no upfront investment, including real-time security against all cyber threats and meeting legal and compliance requirements in relation to data retention. For further information please visit http://www.mxsweep.com.
Press Contacts:
Naylla Kassam
Marketing Manager - MXSweep
Tel : +353 86 4143946
naylla.kassam(at)mxsweep(dot)com
###