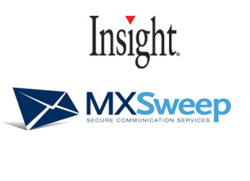 Insight are the perfect example of a global business who have a clear strategy of how to provide their customers significant commercial and technical advantages through the launch of a portfolio of leading cloud services." said Aiden Callaly, VP Sales
Orlando, Florida and Dublin, Ireland (PRWEB UK) 16 February 2012
Internet Security & Data Compliance service provider MXSweep today announced at Parallels Summit that Insight, the leading global IT service provider, will launch MXSweep as part of their Cloud Service applications portfolio for the North American market. Insight has deployed the premium Cloud Services provisioning platform, Parallels Automation, to launch a complimentary portfolio of leading Cloud Services covering communication, collaboration, web and hosted infrastructure. Through the deployment of MXSweep's APS enabled services on Parallels Automation, including email & web security and email archiving, Insight is able to offer their entire North American customer base business critical cloud service applications through a single platform including automated provisioning, billing and management.
With over 6,000 SMB, corporate and public sector customers in 26 countries, MXSweep is a global provider of on-demand security services including email & web security, encryption, email & SharePoint archiving. These services allow users to address internet security issues by stopping malware threats in the cloud and protect and retain confidential data. The services allow customers to meet increasing data privacy and retention rules driven by corporate governance and laws such as the Data Protection Act, FRCP, Basel 1, SOX, HIPAA, PCI and MiFID.
"We have focused on working with global partners who are committed to launching premium cloud services into their customer bases. Insight are the perfect example of a global business who have a clear strategy of how to provide their customers significant commercial and technical advantages through the streamlined launch of a portfolio of leading cloud services." said Aiden Callaly, VP Sales at MXSweep. "We are currently working with the entire Insight US cloud services launch team on a go to market plan and look forward to delivering Insight and their customers the benefits of our commercial model and our market leading services. "
"The partnership between Insight and MXSweep exemplifies how ISVs and global cloud service provides can work together through Parallels Automation and deliver new value add cloud services to customers who need them" said John Zanni, Vice President of Service Provider Marketing and Alliances at Parallels,
For further information please contact jay.mullen(at)insight(dot)com or aiden.callaly(at)mxsweep(dot)com.
About Insight Cloud
For more information please visit http://www.insight.com .
About MXSweep
MXSweep is a global provider of Cloud Internet Security & Data Compliance services including email security, content control & business continuity, encryption, email & Sharepoint archiving, web and mobile security to SME, corporate and public sector customers. The cloud services are provided through partners such as distributors, value add resellers, hosting and telecom companies. MXSweep provides our partners with a unique commercial offering and a simple entry point into the fastest growing cloud services markets. We provide customers business critical internet security & compliance services requiring no upfront investment, including real time security against all cyber threats and meeting legal and compliance requirements in relation to data retention. For further information please visit http://www.mxsweep.com.
Press Contacts:
Naylla Kassam
Marketing Manager - MXSweep
Tel : +353 86 4143946
naylla.kassam(at)mxsweep(dot)com
###