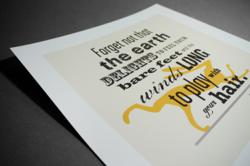 Giclee prints are not only the best way for artists to get up and running but also the best solution in the long term as output is consistently high with stunning print quality and longevity of up to 200 years
London (PRWEB UK) 16 February 2012
Giclée is a fine art term describing high quality, short-run prints. Often used to make reproductions of artwork and Photography, it's the most versatile way to print your images.
Giclee prints are perfect for artists who do not find it practical to mass produce their work, but want to reproduce their art as needed, or on-demand. Once you have the digital file, additional reproductions can be made with minimal effort and reasonable cost.
A new website (http://www.gicl.ee) aims to inform photographers, graphic artists and painters who wish to make reproductions of their work about the advantages of giclee over film or litho. It also aims to encourage artists to experiment with images and get their portfolios noticed and the art-buying public interested.
An A3 giclee print can be produced and delivered for just £13 so artists can test the water with new artwork without incurring huge setup costs. "Giclee prints are not only the best way for artists to get up and running but also the best solution in the long term as output is consistently high with stunning print quality and longevity of up to 200 years", says Kerry Keays, founder of Point101.
Point101 believe giclee printing will grow rapidly in the next 5 years and have setup an on-going weekly competition to encourage photographers and illustrators to get involved. Artists can submit their images for a chance to win a free giclee print and have it featured on the site.
Visit the new website for more information on giclee.
# # #