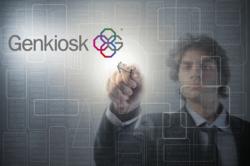 Now You Can Pay Your Electricity Bill at a Self-Service Kiosk - Maybe at the Last Moment before you get Cut Off!
Sheffield, UK. (PRWEB) February 15, 2012
Genkiosk is the most powerful management system for self-service kiosks. Commercial clients around the world already benefit from the visibility and control that the kiosk software provides, allowing them to maximise profitability on kiosk estates designed for:
Paying bills
Printing photos
Accessing the Internet or information
Transferring money
Browsing and shopping.
Now, after commissioning a white paper on Internet access globally, Genkiosk will be given extra impetus in regions where the business case is especially strong.
This means that end-users will gain too – from the ease and speed of doing what they want, when they want.
Jed Fraser, Chief Marketing Officer of GWD Media, the developers of Genkiosk explains: "The research shows priority regions where the match between the need for self-service kiosks and the benefits attainable are especially strong. We debated long and hard where to focus our efforts – and the first result is this boost to our activity in Indonesia and the Philippines. Check the findings in the white paper and you'll see that the opportunities in diverse sectors around the globe are significant."
This drive supplements Genkiosk services like bill payment, retail, and money transfer - which match the booming requirements of populations looking for easy, flexible facilities, without the need for bank accounts or credit cards.
Genkiosk has seen self-service kiosks growing hugely in popularity over the last few years. Not everywhere, but in certain parts of the world, wherever the commercial proposition makes sense for customers and end-users.
The kiosks are simple and fast to use. The availability is high – up to 24 hours a day – and they often remove the need for customers to stand in line or wait for human assistance.
The result for end users: they get what they want - quick and easy.
Long established in North America and Europe, high growth areas in recent years have included the Middle East and the Pacific Rim. Examples include the UAE and the Island of Fiji, where Genkiosk is already well established.
Jed Fraser comments: "Self-service kiosks are really a reflection of local society. Where they can help people do what they want – or need – they make sense. Simple. This might be migrant workers sending money home from Dubai, people getting online in Internet cafes in Fiji, or users anywhere paying their bills (perhaps at the last minute before the electricity is cut off)."
Genkiosk was first released in Europe, and has now gone global. Location is no longer critical to taking full control of self-service estates, as James Oladujoye, CEO of GWD Media explains: "Going into the Cloud – where Genkiosk computer services are delivered remotely regardless of global region – has transformed our business. Customers everywhere deserve– and demand – the very best. Nowadays, why should it matter which part of the world you are in, as far as software services are concerned? Our new clients everywhere will enjoy the latest and the best – just like our existing customers in Dubai, London, Seattle or wherever."
Background Information:
Genkiosk, from GWD Media was first developed to run and manage pay-as-you-go Internet kiosks. It has now grown to cover the full range of self-service applications.
After launching in Europe, it expanded first to the Americas, then the Middle East and beyond, going global via multinational customers and now with direct clients as far afield as Fiji in the South Pacific.
Genkiosk is delivered via the Cloud, maximizing service and availability in every region of the world.
VeoVend, the sister of Genkiosk, provides the same monitoring and management services for more traditional vending (snacks, drinks, beverages, retail.) A hardware plug-in, with mobile phone SIM, gives online access to even the most basic vending machine.
GWD Media is headquartered in Sheffield, UK, and operates worldwide.
###