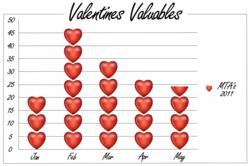 It is interesting to see that despite the economic downturn consumers are still willing to put their hand in their pockets to surprise their loved ones
(PRWEB UK) 15 February 2012
Autonet Insurance, the UK's leading van insurance broker and the 2010 Insurance Times – Personal Lines Broker of the Year today talks about Valentine's Day and the affect that the seasonal day has on household insurance policies.
The insurance broker, who recently publicised the release of the Vanxtra, TVIC and I4V brands on the Compare the Market site has conducted an analysis of their own internal sales data and discovered some interesting trends.
According to Autonet they expected to see a direct correlation between mid-term policy adjustments, cross referenced with a national holiday such as the widely celebrated Valentine's Day. However upon analysis of the data comparing 2011 to last year, it was discovered that there had been a substantial increase in the number of mid-term adjustments, a whopping 307% compared to the same month in 2010. Although not completely evident as to why there was a significant increase, it is safe to say that the recent economic downturn coupled with the rise in living costs has not deterred the would-be shopper from treating their loved one.
Ian Donaldson, Managing Director of Autonet Insurance commented: "It is interesting to see that despite the economic downturn consumers are still willing to put their hand in their pockets to surprise their loved ones with expensive gifts. Looking at these results it would be interesting to see how consumer trends change over time, allowing for more research in this area."
Further-more it was revealed that not only had the number of mid-term adjustments increased from February 2010 to February 2011 but the average spend of a diamond ring rose from £3700 in 2010 to an astonishing £6000 in 2011 not only showing the number of mid-term adjustments had increased but the value to which the item needed insuring was also higher.
Ian Donaldson further commented: "We will continue to monitor these trends year on year, as these provide an interesting insight into consumer behaviour. On a positive note, it is good to see that the rise in living costs hasn't deterred consumers from showering their loved ones with expensive presents.
###