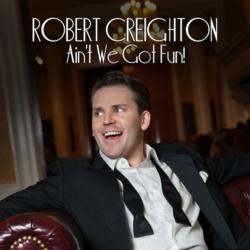 Growing up in tiny Walkerton, Ontario, my dream was to be an NHL goalie for the Toronto Maple Leafs – or to be Fred Astaire
New York, NY (PRWEB) February 14, 2012
LML Music announces the release of "Ain't We got Fun!", the DEBUT ALBUM of Broadway quintuple threat, ROBERT CREIGHTON, currently appearing as the Purser in the Tony Award winning revival of "Anything Goes" on Broadway.
"Ain't We Got Fun!" was conceived by Creighton as a good-time romp through (mostly) Tin Pan Alley, produced and arranged by musical director/composer-lyricist, Georgia Stitt, known for her work on Broadway (Avenue Q, Sweet Smell of Success, The Music Man) and television (America's Got Talent). "Ain't We Got Fun!" features titles like "Wrap Your Trouble in Dreams," "I'm Always Chasing Rainbows," "My Buddy," and the title track, "Ain't We Got Fun!", from writers including Mercer, Kahn, Whiting and Kern and Cohan. Robert Creighton's original songs "Crazy 'Bout You" and "Fallin' In Love" from his award winning musical, CAGNEY!, appear on the recording as well, (Fallin' in Love is a duet with Creighton's Broadway colleague, Kate Baldwin). Ms. Stitt gave the sound an authentic and vintage feel, with a variety of instrumentation including brass and strings. A touch of kazoo and solo lip trumpet, both skillfully rendered by Robert Creighton, go a long way towards delivering on the fun. "Anything Goes" castmate, Joel Grey, sings "Give My Regards to Broadway," and Heidi Blickenstaff and Tituss Burgess (with whom Creighton appeared in "The Little Mermaid" on Broadway) make distinguished appearances on the recording as well.
Robert Creighton, who hails from tiny Walkerton, Ontario, was a song and dance man from the age of three, when he would entertain his family with made up choreography to classic popular recordings. He played in dozens and dozens of regional productions and National Tours before landing a non-stop string of six Broadway shows beginning with the ill-fated "Jackie Mason's Laughing Room Only" in 2003. He appeared with the New York City Opera for two seasons, including in the role of Njegus in "The Merry Widow," broadcast live from Lincoln Center. Since then, the very popular character actor has been seen in "Chitty Chitty Bang Bang," "The Little Mermaid," "The Lion King," "Chicago," and now "Anything Goes," where, in addition to the role of the Purser, Creighton understudies Joel Grey in the role of Moonface Martin. Creighton played the role of Moonface Martin previously in regional theater, and as a result of vacation schedules and Grey's broken foot in the Fall of 2011, Creighton has played the role for many weeks since the show opened on Broadway at The Stephen Sondheim Theater.
Robert Creighton is the co-author of CAGNEY!, an original musical which had its world premiere at Florida Stage in 2009. CAGNEY! won Florida's prestigious Carbonell Award for "Best New Work" in 2010, and has set box office records for both its runs in the state.
Visit CAGNEY! The Musical on the web to learn more.
"Ain't We Got Fun!" is available at iTunes, Amazon.com, LML Music, RobertCreightonNYC, and all traditional and online retailers.
SAVOY PR represents creative people and projects in the entertainment and lifestyle industries.
LML Music is an independent label dedicated to distributing the finest in Cabaret, Jazz and Broadway vocals.
###