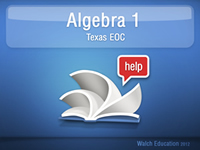 Portland, ME (PRWEB) February 15, 2012
To assist Texas students preparing for the new EOC Algebra I assessment, Walch Education has launched a web-based version of its popular iPad, iPhone, and iPod Touch app.
Developed and piloted in Plano, Texas, in 2011, the Algebra 1 Help Texas EOC app helps Texas educators ensure that students have the concepts and skills necessary for success on the Algebra I end-of-course assessment and in future math courses.
Both web-based and iPad versions of the app can be purchased on a single-user basis or for use at home before the EOC. The iPad version, priced at $6.99 per download, and the web-based one at $5 per student can also be licensed on a class, school, or district basis. Please contact Lylia King at lking(at)walch(dot)com to learn more about volume pricing rates.
Both versions of the app provide students with a sequence of interactive assessment items and follow-up instruction. Questions parallel the five objectives of the test blueprint: Functional Relationships; Properties and Attributes of Functions; Linear Functions; Linear Equations and Inequalities; and Quadratic and Other Nonlinear Functions. The application responds to each student's selections, providing additional questions and follow-up instruction or explanation, based on their specific answers to each item.
"Only 57% of the 102,000 students who took the Texas EOC Algebra I assessment in 2010 passed it," says Jill Rosenblum, Walch Education's Vice President of Education. "This application will allow more students to prepare for the test and increase their ability to succeed on the end-of-course assessment."
Items are closely modeled on the content, style, and format of the end-of-course assessment, with multiple choice questions and answer choices designed to represent typical errors, gaps in prior knowledge, and common misconceptions associated with the concept or skill. The app provides immediate feedback, reinforcing correct answers and allowing students to move on, or offering targeted instruction to address identified issues.
Students are able to view definitions of important math terms with one click and can also access the same STAAR Algebra I Reference Materials, including formulas and equations, which will be available on the EOC exam. Teachers can be notified by e-mail of progress and results, allowing them to tailor instruction and support individual students appropriately.
About Walch Education
Walch Education develops and produces purpose-built instructional materials and applications for teachers and school districts. Walch works directly with school districts in Texas and elsewhere to create resources that are deeply aligned to the standards, local and state curricula, and districts' requirements. Walch acts as a virtual extension of the districts' curriculum departments to deliver tailored materials that aren't available from traditional textbook publishers. Materials are delivered as printed text and work books, online, on CD, and now for the iPad and iTouch, as well as on iTunesU. For more about Walch Education, visit http://www.walch.com.
###