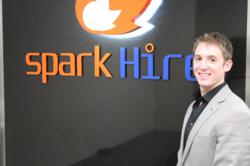 "Spark Hire was made to give frustrated job seekers the opportunity to get their foot in the door. We want everyone to have their chance to tell a company why they should be hired." --Josh Tolan, CEO of Spark Hire, Inc.
Northbrook, IL (PRWEB) February 14, 2012
Finally, there is better way for job seekers to land their next job. Spark Hire is redefining the online job market by allowing job seekers to search, apply and even interview for jobs like never before.
Spark Hire was developed as a solution to the frustrating and time consuming job search process. Traditionally, job seekers would search and apply for jobs using old-fashioned, static resumes and cover letters. What differentiates Spark Hire from other job sites is that job seekers now have the opportunity to present themselves to employers in a more unique and dynamic fashion. Spark Hire's video integration with a plethora of other features helps job seekers gain the competitive edge they need.
One of Spark Hire's premiere features is the Profile Video, where job seekers can bring their static resumes to life. Job seekers simply create a profile on Spark Hire and record a 60 second video using their webcam. The Profile Video allows job seekers to display their creativity, candor and communication skills. When job seekers search and apply for jobs on Spark Hire, employers will be able to view their profiles and watch their videos. Getting directly in front of employers has never been this easy.
Spark Hire even helps make the interview process more convenient. Now, job seekers can interview with employers through Spark Hire Online Interviews. Both parties can connect from the convenience of their own computer using webcams. The combination of Spark Hire's Profile Videos and Online Interviews is sure to revolutionize how job seekers participate in the online job market. For the first time ever job seekers can interact face to face with employers throughout the entire job search process.
"I've heard the same thing so many times-'if only they can see me.' Job seekers are looking for a way to stand out from the masses," says Josh Tolan, CEO of Spark Hire. "Spark Hire was made to give frustrated job seekers the opportunity to get their foot in the door. We want everyone to have their chance to tell a company why they should be hired."
In an effort to spark U.S. employment, Spark Hire is offering their services 100 percent free to job seekers. "It's time for Americans to get back to work," says Tolan. "We want to provide a platform which helps individuals nationwide achieve their objective of landing their dream job."
For media relations, questions or comments please contact:
Adeel Alam
Phone| (847) 780-7807
E-mail |aalam(at)sparkhire(dot)com
http://www.SparkHire.com
###