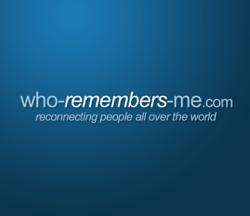 who-remembers-me do not want to miss the fundamental issue of really understanding their user's perspectives
(PRWEB) February 15, 2012
To be even more useful to the target audience,who-remembers-me is in need of vastly improving the way in which visitors can accomplish the important task of reconnecting with old or long-lost friends and family. Not only does this mean improving usability, creating an excellent user experience and rethinking the whole brand as part of these exciting developments, but who-remembers-me are making a point of understanding their members online behavior and are working to implement applications for mobile devices that can facilitate all of those people who are 'on the go.'
Project manager Gemma Johnson says, "We're not developing apps to be cool or to use as a gimmicky marketing tool for the sake of being able to say that we've done it; what we're doing is building this as an extension of our business, making the users life easier, more accessible and adding value to their overall who-remembers-me experience."
With over one third of the traffic source coming from a mobile device, which has seen a three-fold increase in comparison to this time last year; who-remembers-me consider it a necessity to optimize the site and in turn provide an application and website that can help create a whole new engaging online experience for their users. With members being geographically located across most countries around the globe, the mobile app will give the site users the opportunity to access their profiles, search for others by name or by place, exchange messages and a whole plethora of other exciting features, from anywhere in the world. It will also allow who-remembers-me the capacity to add additional services to the site, a good way to both produce and invest in the organization. It will present the opportunity to showcase new functionality and ultimately stand who-remembers-me in a more distinct position within the marketplace.
The team working hard behind this extensive site-refresh are, at present, laying the foundations of a 12 month marketing plan that will potentially offer an edge over the competition. Without losing sight of its USP, the key differentiation between who-remembers-me and other websites vying for attention, is the functionality behind searching for someone by establishment; whether this be your old school, street name, local bar or place of worship, to name a few – the intelligent search engine has the capability of matching you with other people who share those places in common.
With the realization that websites soon become dated, who-remembers-me are aiming high; as well as retaining their existing members, their objective will be to appeal to a wider, more varied audience and in doing so, they will provide fresh content to make them stand out from the crowd. To ensure the long term success of the site, who-remembers-me do not want to miss the fundamental issue of really understanding their user's perspectives.
For all of those members who have become disengaged, the intention is to draw them back to the savvy, more user friendly site, aiming to re-launch in Summer 2012; creating excellent experiences all round and attracting an even larger customer base than ever before.
###