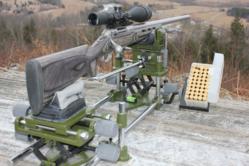 They call themselves benchrest shooters....this small but intensley dedicated band of marksmen has changed the face of riflery
Huntington Station, New York (PRWEB) February 22, 2012
Guns such as the Winchester Model 70, Remington 700, Anschutz .22LR Rimfire rifles, and the Savage F/TR are now serious contenders. The sport is further supported with excellent ammunition from Lapua, Ely, Hornady, Speer, Barnes and Black Hills Ammunition Company; and barrel makers such as Hart, Bartlein, and Kreiger. Modern cartridge loadings such as, the 6.5 x .284 ( "From 600- and 1000- yard benchrest, to the tactical and F-class shooting disciplines, this round has made its grand entrance ." Accurateshooter.com. http://www.6mmbr.com/SixFive284.html), 6BR, ("A 6BR can set world records at 600 yards and even 1000 …we have a cartridge that delights both varminters and match shooters—benchresters and position shooters alike." Accurateshooter.com. http://www.6mmbr.com/SixFive284.html), .308, 6 x 44 and .338 Lapua, have become the darlings of long range bench rest shooters. Unfortunately, top end precision shooting accessories such as, benches, rest bags, and rests, which are an integral part of the equipment required for consistency and accuracy, are expensive to the point of being beyond the reach of the average shooter. "…the least expensive, competitive custom rifle…costs a minimum of $2,500 before adding a scope…a front and rear rest would put you a bit over the $2,000 mark." Jacob Gottfredson http://findarticles.com/p/articles/mi_m0BQY/is_3_55/ai_n31326587/. According to HYSKORE® (http://www.hyskore.com) spokesman, Ted Werner, "this creates an excellent opportunity for the introduction of full-featured precision shooting rests at prices that the entry level shooter can afford. With this thought in mind, HYSKORE® has developed the Bench Beast™ Integrated Competition Precision Shooting Platform." "You just need good range conditions and a steady rest to get tight groups at the bench; a castle of ratty old sandbags just doesn't cut it…If you have never used a good, traditional two-piece cradle system, you are in for a real treat." Randy Wakeman http://www.chuckhawks.com/rock_rest.htm. The Bench Beast is modular and consists of 3 components. The #30195 Joy Stick Operated Front Rest, the #30196 Universal Rest, and the #30201 Linkage Set. These components can be purchased separately or together to form a complete integrated set that is, in effect, a one piece shooting rest. Either way entry level shooters can now enjoy the benefits of a world class competition bench rest.
The HYSKORE® (http://www.hyskore.com) #30195 Bench Beast™ Joy Stick Rest incorporates virtually all of the most advanced and useful features sought after by competitive bench rest shooters; these are evident in top end rests manufactured by SEB International, Farley, and Sinclair. In addition, The Beast has unique design features that set it apart from every other commercially produced rest available to competitive bench rest rifle shooters. One of the most significant differences between the Bench Beast™ and any other rifle rest is the compound scissor primary elevation system. The scissor mechanism is activated by a dial operated horizontal screw so that it requires no additional lock up and stays exactly where it is left without out drift, creep, or other movement. Controls are ambidextrous. It is further stabilized with Teflon linear motion bearings that ride on polished vertical shafts. The coaxial joy stick is used for fine adjustments in windage and elevation, and has a total range of 120 M.O.A. (minutes of arc http://riflestocks.tripod.com/moa.html) . Just like the elevation mechanism, the joy stick rides on Teflon linear motion bearings to provide liquid smooth motion in all directions. Once the ideal position is found, a secondary lock up holds the gun at the perfect point of aim. The rest is supplied with a custom, filled, leather rest bag that sits on a platform with adjustable end brackets that can be further adjusted for side tension to provide the perfect coefficient of friction so that the gun slides smoothly during free recoil. Projecting to the front is an adjustable forend stop. This is a screw operated referencing device that positions the gun at the exact same point for bullet release for each shot. The Bench Beast™ is also equipped with an adjustable ammunition shelf that can be mounted on either the right or left side. The purpose of the shelf is to keep the shooter's ammunition in exactly the same place for each shot, and most importantly so the shooter only makes a minimum amount of movement to retrieve and exchange cartridges. The base is equipped with three point leveling, and a magnetic spirit level. This shooting rest is a far cry from using bean bags or a stack of rags as a gun support. "The bipod has always given good groups but when changing bull on a score target your POI is all over the place. The conventional pedestal front rest and rear bag works well but…The POI…moved somewhat." Brian Harvey http://www.accurateshooter.com/guns-of-week/gunweek080/. All that is necessary is a rock solid shooting bench, an F class or bench rest rifle, and a willing shooter. If precision and repeatability are the objectives of the shooter this is the best front shooting rest.
The HYSKORE® (http://www.hyskore.com) #30196 Bench Beast™ Universal Rest was originally designed to be the rear rest of the integrated system, but can also serve well as a front shooting rest. Serious, top scoring, competitive bench rest shooters prefer to make their fine adjustments in windage and elevation from the rear of the gun rather than the front. …"you can also fine-tune your elevation by squeezing both ears…squeeze the ears with your thumb and first two fingers to adjust elevation and windage." The Reloading Press http://blog.sinclairintl.com/2009/01/15/shooting-non-benchrest-rifles-from-the-bench/. By doing this, they are able to remain in a tight consistent shooting position with perfect sight picture, eye relief, and cheek weld through all phases of firing as opposed to having to reach forward to make adjustments. The Bench Beast™ Universal Rest has been designed for exactly this purpose. Just like the #30195 Joy Stick Rest, it uses a compound scissor mechanism for elevation, which means that it remains exactly where it is set without any drift, creep, or movement. This sets it apart from other rifle rests that utilize a threaded central column that wobbles, or a rack and pinion that requires secondary lock up. The upper platform rides on Teflon linear motion bearings and moves side to side by simply turning a knob. By using the elevation and windage adjustments the shooter can fine tune the point of impact and sight picture, but must remember that the gun sights will move in the opposite direction from adjustments made at the front end. The rest is equipped with a filled, rabbit ear, leather shooting rest bag, a magnetic bubble level, and three point leveling. Both windage and elevation adjustments are fully ambidextrous.
Some types of competition such as, air and rimfire rifle (World Rimfire and Air Rifle Benchrest Federation http://www.wrabf.com/) allow the front and rear rest to be integrated into a rigid, one piece shooting platform; other types of competition do not. (The United States Bench Rest http://usbr.benchrest.net/ and International Benchrest Shooter http://internationalbenchrest.com/index.php). The Bench Beast™ integrated shooting system has been designed so that the front and rear rest can stand alone or be joined together using the #30201 Linkage Set. In this manner they form a fully integrated rigid shooting platform making this one of the best shooting rests available to bench rest and F class shooters or just the most incredible rifle rest to set up on your bench at the shooting range or at the Firearms Industry Super Shoot.
Both rests will be available Summer 2012
A full range of long gun and handgun maintenance and shooting accessories including compression dampened recoil attenuating shooting and tactical / varmint rests is available from HYSKORE® http://www.hyskore.com. The line up consists of the DLX Precision Sighting Rest, the Dangerous Game® Machine Rest, The Bench Beast Precision Shooting Rest, the Dead Eye® Tactical & Varmint Rest, the Parallax Cleaning and Sighting Rest, and the Black Gun® Machine Rest. These are all fully supported on the HYSKORE® http://www.hyskore.com website with instruction manuals, target down loads, and both demo and tutorial videos. Most importantly, these advanced shooting accessories are affordable to the average shooter.
About HYSKORE®
HYSKORE® is a registered trademark of Power Aisle, Inc. (Est. 1988) of Huntington Station, New York 11746, 631/673-5975. HYSKORE® manufactures a proprietary line of advanced, purpose built, tactical and sport shooting accessories including shooting rests, multi-function electronic hearing protection, pistol rests, pistol racks and sundry accessories. HYSKORE® products are available at numerous retailers including: Cabelas http://www.cabelas.com, BassPro http://www.basspro.com, Sportsman's Guide http://www.sportsmansguide.com, Cheaper Than Dirt, http://www.cheaperthandirt.com, Brownells http://www.brownells.com, and Midway USA http://www.midwayusa.com.
###