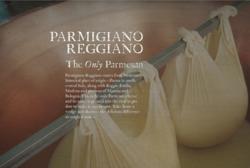 "We are looking forward to working with Joel and his team at 2ndNature," Radke said of the partnership. "Their expertise and ability with interactive web design will help everyone better know the origins of Parmesan"
Syracuse, New York (PRWEB) February 15, 2012
Syracuse headquartered 2ndNature, an interactive design studio, is pleased to announce that it will be partnering with another Syracuse based business, Good Food Creative, Inc. and Digital Brand Expressions (DBE) of Plainsboro, NJ, to draw American attention to the texture, quality and taste of ParmigianoReggiano® cheese.
Parmigiano-Reggiano is a protected product of origin (PDO) and world renowned artisan cheese made in the Parma region of Italy. "Cheese is like wine. It is named after geographic regions and it must be made with local ingredients to be certified." said Nancy Radke President of Good Food Creative, Inc. "All the cheese makers in the ParmigianoReggiano region of Italy united in a consortium in 1934 to set standards for their product. Today in the EU no other cheese can be called Parmesan except Parmigiano Reggiano. Educated Americans are beginning to realize this and are demanding products from their places of origin ," said Radke.
The team of Good Food Creative, 2ndNature and DBE was chosen over other global marketing communications teams in a highly competitive selection process. Jointly, they provide an integrated approach and a highly skilled and creative team of professionals who will bring an appreciation for Parmesan cheese to Americans.
"2ndNature's partnership with Good Food Creative and DBE on the Parmigiano Reggiano account is an opportunity to showcase internationally the unique and highly specialized technical and creative services we offer. Our niche talent for creating interactive platforms that highlight a product and make it 'real' to the consumer through user based educational design is a huge value added benefit as a marketing tool," commented Joel Fairbank Studio Director at 2ndNature. "We are beyond excited about this chance to work with Certified Culinary Professional Nancy Radke to create a website that oozes the flavor and unrivaled richness and quality of Parmigiano- Reggiano."
"We are looking forward to working with Joel and his team at 2ndNature to create a virtual cheese experience for Parmesan.com," Radke said of the partnership. "Their expertise and ability with interactive web design will help everyone better know the origins of Parmesan and how it can make their recipes for classics like, Eggplant and Chicken Parmesan sing."
Good Food Creative is dedicated to ensuring that people understand the unsurpassed characteristics of Parmesan cheese fom its original source in Italy. President, Nancy Radke, is a Certified Culinary Professional (CCP) as well as the Director of the US Information Office for the Consorzio del Formaggio Parmigiano-Reggiano. She has lived in Italy, conducted culinary classes there and in the US, and has published an Italian food newsletter Ciao, the Definitive Italian Food Newsletter ™. Her company provides services to a number of projects funded by the Italian government and the European Union to promote European products, in addition to the work it does for Parmesan cheese.
2ndNature is a multi-disciplinary design studio that specializes in interface design and motion graphics for interactive and digital media. The company designs and develops international level corporate websites, mobile device applications for Android and iOS, 3D modeling and animation, graphical user-interfaces (GUI), multimedia/motion graphic presentations, interactive touch-screen kiosks and sound design for broadcast and interactive media.
Digital Brand Expressions helps businesses be found faster on the Web and be more actively engaged with stakeholders than their competition. Through an integrated suite of content marketing services, which typically includes search engine optimization, pay-per-click advertising, and social media marketing, DBE helps ensure that its clients are visible on the Web when and where people are searching for the solutions they provide. The company's clients include corporate giants, emerging markets players and savvy start-ups.
The new website designed for the American market will be unveiled this spring. Go to http://www.Parmesan.com to sign up for email notification announcing the site's launch.
Also watch Facebook, Twitter, and YouTube for interactive opportunities to learn more and share your experiences with real Parmigiano Reggiano.
For immediate information about Parmigiano Reggiano, please visit: http://www.parmigianoreggiano.com.
###