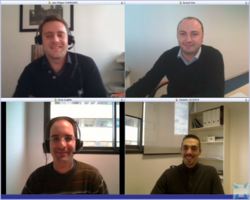 Where videoconferencing meets Information Systems
Montpellier, France (PRWEB) February 15, 2012
A custom control of WorkSpace3D
By using SOAP oriented Web Services from any language, the WorkSpace3D API allows developers controlling all the meeting and users management functions. It is not only possible to schedule video conferences, but also to edit both date and attendees list, and even cancel it. Besides, it is also possible to add and edit users accounts, and manage the right of hosting meetings.
The ease of use of the API, its quality, and its ability of being used from any language, makes integrating videoconferencing into third-party software accessible.
Where videoconferencing meets Information Systems
Using this API allow customers quickly integrating WorkSpace3D into their Information System, increasing its flexibility and efficiency. There are many use cases, and in particular integrating WorkSpace3D into:

the Intranet of the company to check available time slot and schedule video conferences from a shared and public calendar,
the CRM to schedule and host video conferences with customers,
Email clients, such as Outlook, Thunderbird and Zimbra to schedule video conferences.
This API allow companies to meet precisely their needs and use cases, depending on their existing information system.
New opportunities for partners
Thanks to this API, partners will be more independent in their customers relationship, for instance, to set up automated trial periods of WorkSpace3D.
Besides, the different API functions make it possible to not only design their own applications, but also develop new sales proposals by integrating WorkSpace3D to their existing solutions (conference calls, IP Centrex...)
Through this deep integration, WorkSpace3D will bring a new growth engine to its partners.
About Tixeo
Tixeo is an innovative 3D video and web conferencing software company since 2003.
Our solutions allow anyone to set up meetings with up to 50 participants, using both voice and video over IP.
Tixeo's software are enriched with easy-to-use collaborative features and offer a unique experience: hosting traditional meetings in 2D or enjoying 3D virtual spaces with a greater speech-gesture-sketch communication.
Not only Tixeo's solutions are available as Software as a Service (SaaS), on both monthly and yearly plans, but also as on-premise licenses and appliances.
Thousands of customers worldwide work every day with WorkSpace3D, from SMB to large corporations, such as: Airbus / EADS, Raytheon, BNP Paribas, Flagstar Bank, Sogeti, DGAC, Conforama...
For further information, please contact:
TIXEO
http://www.tixeo.com
Cap Gamma – CS 37385
1682 rue de la Valsière
34189 Montpellier Cedex 4, FRANCE
Tel: +33 467 750 431
Fax: +33 467 408 033
E-mail: contact(at)tixeo(dot)com
###