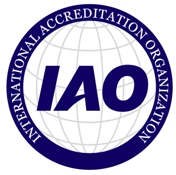 Austin, TX (PRWEB) February 16, 2012
IAO has been actively participating in the betterment of the educational standards across the globe. Recently, IAO has formed an alliance with The National University Technology Network (NUTN) to enable homogeneity in the quality of education within the international framework.
Various regional and international educational and accreditation networks are already onboard with IAO. At IAO new trends in education and accreditation are recognized every day,distance education being an outgrowing trend in the world of academia. Being associated with NUTN will help IAO maintain the best educational standards in its pursuit of academic globalization.
Alliance of NUTN and IAO will:

Provide an opportunity for networking and collaborating to face the challenges for successful implementation of various technologies and thereby improving the standards of education to an international level.
Recognize member institutions at many different points during the improvisation and deployment of educational technologies.
"It gives us great pleasure to welcome The National University Technology Network to the IAO's alliances list.IAO is proud to be connected with a large network of innovative leaders in the advancement of teaching and learning", said Mr. Aaron Jacobs, Member Accreditation Commission.
National University Technology Network (NUTN), being a consortium of higher education institutions, provides networking and professional development arena for the advancement of teaching and learning. IAO along with NUTN is bound to develop a consolidated network for pioneering leaders who are involved in advancing the patterns of teaching and learning in the field online education.
About IAO:
IAO is an international quality assurance agency, working to improve educational standards all over the world. With presence in over 25 countries and being recognized by IEAC & GESFWA, IAO is responsible for accrediting traditional, non-traditional and vocational education providers through its Patented Points Profile System. This Points Profile System is constantly updated to cater to the new developments in the academic world.
To learn more visit http://www.iao.org
###