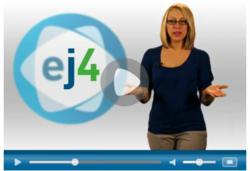 "Video is part of our daily lives - we turn to online video for news updates, entertainment and learning. But we expect it to be fast and smooth; we hit play and it works."
Overland Park, KS and St. Louis, MO (PRWEB) February 14, 2012
To ensure smooth, quick delivery of their video eLearning content, ej4 has partnered with EdgeCast Networks, a leading content delivery network (CDN). The addition of a CDN will allow ej4's J4 Video content to be easily accessed by learners globally, on any device.
The partnership immediately enhances ej4's position as the premier provider of global video-based eLearning.
"Our partnership with EdgeCast enables our [J4] videos to be seen on any device, anywhere in the world, " says Tom Lynch, ej4's Vice President of Technology. He continues, "This is particularly important as the demands on training departments increase and the employee count of those departments decreases."
Quick, short HD video content can be rolled out seamlessly to employees anywhere in world and can be accessed easily on mobile devices and tablets, as well as the traditional PC and DVD solutions.
ej4 content will be published directly from severs in 18 metro areas on four continents. EdgeCast differs from traditional, or legacy CDNs, by utilizing a smaller number of strategic global locations near primary Internet Exchange Points called "SuperPOPs", which allows for massive amounts of computing that is directly connected to all the major backbone networks. What does that mean for ej4? It means "blazing-fast content delivery" that is specifically built for the large file, broadband web requirements of Video eLearning.
Ryan Eudy, Chief Operating Officer at ej4says, "Video is part of our daily lives - we turn to online video for news updates, entertainment and learning. But we expect it to be fast and smooth; we hit play and it works." An optimal user experience is critical to the effectiveness of J4 Video. EdgeCast was selected because, as their website states, "regardless of their device, location, or connection speed, users will have the best possible experience."
In addition to enhancing the user experience on mobile devices, adding a content delivery network will aid the continued globalization of J4 content. Stay tuned for ej4 announcements of partnerships in Spain, New Zealand and Australia.
About ej4
ej4 is a leader in providing global video eLearning in ten minutes or less. Choose from hundreds of short, concise, and effective courses from our J4 Video learning library. J4 Videos: short, task based, and fun. ej4 provides off the shelf programs on topics like compliance, leadership, selling skills, safety, personal productivity, and more. For more information, please visit ej4.com or call 913-341-9100.
About EdgeCast Networks
Delivering any data, anywhere, anytime, EdgeCast is the world's fastest and more reliable content delivery network. To lean more, visit EdgeCast.
###