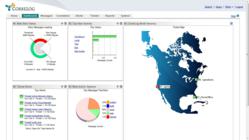 CorreLog is excited to help SHARE educate its members on PCI DSS.
Naples, FL (PRWEB) February 15, 2012
CorreLog, the leader in software solutions for IT security event correlation, today announced an exhibitor sponsorship at SHARE Atlanta, March 11-16, 2012. The conference will be held at the Omni Hotel at CNN Center, and will feature deep-dive discussions into the latest IT industry security developments and feature engaging networking opportunities for attendees.
The CorreLog featured speaking presentation, "PCI DSS, z/OS, and Keeping You from Becoming a News Headline," will highlight governmental compliance requirements specific to mainframe environments that are related to the Payment Card Industry Data Security Standard (PCI DSS). CorreLog will also highlight a customer use case for enterprise security across a complex, heterogeneous IT environment consisting of z/OS, UNIX, Linux and Windows devices that pass industry compliance standards such as PCI DSS, HIPAA, SOX, FISMA, and NERC.
At SHARE Atlanta, CorreLog will feature its unique IBM z/OS Mainframe CZ Agent. The CorreLog z/OS CZ Agent can create syslog messages in real-time from the mainframe RACF, ACF2, Top Secret, DB2, CICS, TCP/IP and File auditing SMF records. This ability to include mainframe data into any Security Information and Event Management (SIEM) platform – provided by CorreLog or other SIEM vendor – is a powerful story for government and financial sectors needing a PCI compliant mainframe message converter to help maintain IT security and compliance in a distributed system.
The CorreLog presentation is scheduled for Tuesday, March 13, 2012 at 11:00 a.m. ET, in the Redwood Room of the Omni Hotel convention area. CorreLog will also be present in the Technology Expo at booth #510. The Technology Expo is scheduled for Monday and Tuesday, March 12-13, from 4:30-7:30 p.m. ET. Wednesday, March 14 hours are 10:30 a.m. – 1:30 p.m. ET.
For more information on SHARE Atlanta, please click here.
About SHARE:
SHARE Inc. is an independent, volunteer run association providing enterprise technology professionals with continuous education and training, valuable professional networking and effective industry influence. From the SHARE website, their mission is to enable people in Information Technology environments to achieve business results. The SHARE vision is to be an "indispensable partner with our members and IBM - the community where users and technology meet to shape the future of Information Technology."
About CorreLog:
CorreLog, Inc. delivers security information and event management (SIEM) combined with deep correlation functions. CorreLog's flagship product, the CorreLog Security Correlation Server, combines log management, Syslog, Syslog-NG, SNMP, auto-learning functions, neural network technology, proprietary semantic correlation techniques and highly interoperable ticketing and reporting functions into a unique security solution. CorreLog furnishes an essential viewpoint on the activity of users, devices, and applications to proactively meet regulatory requirements, and provide verifiable and actionable information. CorreLog automatically identifies and responds to network attacks, suspicious behavior and policy violations by collecting, indexing and correlating user activity and event data to pinpoint security threats, allowing organizations to respond quickly to compliance violations, policy breaches, cyber-attacks and insider threats. CorreLog provides auditing and forensic capabilities for organizations concerned with meeting SIEM requirements set forth by PCI DSS, HIPAA, SOX, FISMA, NERC, NCUA, and others. CorreLog markets its solutions through both direct and partner channels.
Copyright © 2012, CorreLog, Inc. All rights reserved.
All trademarks and registered trademarks used herein are the properties of their respective owners.
###