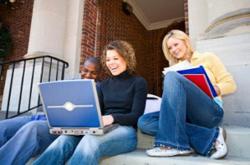 Many are hopeful that computer-based learning will establish a positive and interactive environment in schools.
Elk Grove Village, IL (PRWEB) February 15, 2012
Last month Education Secretary Arne Duncan and US Federal Communications Commission chairman Julius Genachowski urged schools across the country to embrace technology in schools. By establishing a diverse group of educators and policy-makers into the first D.C. cohort of Policy Fellows, the Obama Administration is hoping to revolutionize the education system by bringing personal-use technology products to every student in the US in the next 5 years.
This marks a huge landmark in both the field of education and technology, and many are hopeful that computer-based learning will establish a more positive and interactive environment in schools, and eventually cut costs and improve future professional qualifications for students. The idea of digital learning has already been widely adopted in states such as Florida, Idaho, Utah and California. There have been numerous studies and reports based on how education is affected, positively and negatively, by the integration of technology in the classroom.
While there are a number of obstacles facing the Obama-backed initiative the cohort seeks to understand if the cost-benefit analysis will favor the advantages of computer-based learning over the cost and restrictions. The primary restrictions include budgetary restraints, broadband limitations and dissent from traditional learning supporters.
Despite these said restrictions, supporters of digital learning cite numerous studies that show students are positively impacted by the implementation of technology in their school day. A report by UC-Davis found that students tend to be more engaged and enthusiastic about learning when computers were involved. The report found that attendance and graduation rates were higher among students that engaged in digital learning.
Proponents state that communication and information can be stream-lined through computer use. The internet is a simple-to-use tool that provides the most updated and objective information available, an ideal ambition for education. Word-processing programs and data share applications provide an organized and systematic process for activities such as grade sharing, paper/test editing, project assignments, brainstorming, etc. Undoubtedly, students improve their computer skills that can later be transferred to their professional and post-high school education.
Opponents feel that the cost will not outweigh the benefits. One clear solution would be to administer low-cost laptops to students. Belmont Technology offers used and refurbished laptops that work like new, but can be bought at a fraction of an equal machine. Buying discounted laptop parts also cut costs when supporting hundreds, if not thousands of laptops in a school.
About the Author: Belmont Technology is a trusted retailer of used and refurbished desktop PCs, laptops and computer parts. Everything in our inventory must pass a thorough inspection and are tested prior to shipping to ensure we send only high quality machines and parts. We pride ourselves on delivering highly functional computers and parts at the lowest prices and with superior customer service.
###