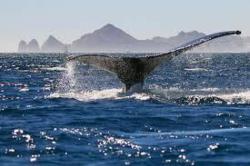 Cabo San Lucas, Mexico (PRWEB) February 16, 2012
While there may still be snow on the ground, DiscountedCaboBeachResorts.com suggests taking a moment to daydream about a warm spring day in Cabo San Lucas. From simply enjoying a lazy day in the sun, taking in the views of the Sea of Cortez from beautiful Medano Beach or the exciting nightlife of Mexico's premiere vacation destination; now is the time to start planning a spring get-away to Cabo – and save hundreds of dollars.
Spring Means Fun In Cabo
Cabo San Lucas is one of the world's most popular vacation spots for good reason – there are activities for folks of all ages, couples and families alike. There are a variety of events going on in late winter through April that makes it the perfect time to visit and make memories that will last a lifetime.
From late December through March, Cabo's most popular residents return to the seas of Los Cabos. Five different species of whale make their winter home in the warm waters - Blue, gray, humpback, finback and Bryde's whales can all be seen in the bay and around the peninsula, along with Pacific Bottlenose dolphins. Guests to the region can see the whales up close from the many boat tours that are available during the season.
At the end of February, in the week leading up to Ash Wednesday (February 22nd), Carnival is celebrated. This time of celebration before the period of Lent is one of the most popular times to be in Cabo and the parties and fun are legendary. The food, music and dancing are highlights that can't be missed.
March 8th – 18th brings the Festival of San Jose Del Cabo – honoring St. Joseph, the patron saint of Cabo San Lucas' sister city. This 11-day long festival features locally made foods, carnivals and parades. Admission is free and the sugared pumpkin candies are a famous local treat.
Vacation Packages for Every Budget
For the cost-conscious traveler, an affordable resort package can mean being able to see and do it all while in Cabo. Discounted Cabo Beach Resorts offers savings of up to $1500 on 8 day/7 night stays in the 5-star Cabo Villas Beach Resort and Spa.
This family-owned resort features 140 custom decorated luxury suites, 3 on-site restaurants and 3 pools with a 20-person Jacuzzi. Pamper yourself at Sparitual, a 6,000 square foot spa on-site that provides skilled estheticians and therapist to release stress and simply relax. Cabo Villas even has its own market and business lounge for convenience.
Cabo Villas Beach Resort and Spa has everything - personalized customer service, 5 star accommodations, and the best location in the Heart of Cabo. Guests love the small resort feel and the professionally-decorated suites with fantastic views of the Sea of Cortez.
Book your Mexican get-away online now at DiscountedCaboBeachResorts.com and start packing for you Cabo San Lucas springtime dream vacation!
###