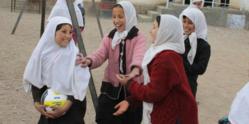 Development of society is connected to the development of children. If the children are healthy and strong, they will be able to play a key role in the development of their society and could properly lead the community in the future.
(PRWEB) February 14, 2012
One of the IOC's missions is to promote the Olympic values in order to place sport at the service of the harmonious development of our society. The IOC has thus developed a comprehensive programme using sports development as a tool for local socio-economic and human development in cooperation with UN agencies and other organisations specialised in development and humanitarian aid and National Olympic Committees. The following projects in Costa Rica, Cambodia and Afghanistan truly underline this strong commitment by the IOC to improve the lives of under-privileged communities worldwide.
Facilitate youth refugee integration in Costa Rica
In Costa Rica, a project "Promoting inclusive education and local integration of young urban refugees through sporting, recreational, and awareness-raising activities", has been implemented with the support of the IOC and the UNHCR Costa Rica office, and in close collaboration with the Costa Rican NOC, and the "Red de Jóvenes sin Fronteras" (Youth Without Borders) youth network composed of national, migrant and refugee young people.
In October 2011, in the mountains of the Heredia province, a sports camp called "Knitting ties towards integration" brought together young boys and girls, young refugees and migrants, as well as young local members of the "Youth Without Borders" network. The programme included theoretical lessons on migration and refugee issues as well as on educational Olympic values, without forgetting several sporting and recreational activities.
An awareness-raising and sports festival entitled "Citizens of the World" was also organized in the canton of Desamparados in San José.to foster inclusive education through the dissemination of information on the rights of refugees and migrants, as well as responsibilities, to teachers, counsellors and students. Almost 2,000 people participated in different types of activities, from a performance by a professional theatre group to a performance by a well-known migrant story-teller to sports activities (football, dance, climbing and archery).
Making a difference for children in Cambodia…
Last December, the IOC teamed up with WFP Cambodia to provide a range of sports and recreation equipment to 84 primary schools across Cambodia as part of the WFP/Ministry of Education, "Youth and Sports School Meals programme". This programme, reaches almost 350,000 children in more than 2,000 schools. For the director of Nam Kin Primary School in the Kampong Cham Province, receiving sports kits mean a lot for all these children: "Each child receives a nutritious breakfast every morning, encouraging them to come to school on time and helping them to concentrate on their lessons. I believe the sports kits will also provide an incentive for children to come to school."
WFP Geneva representative Jean-Yves Lequime adds: "I hope these sports kits will also help the children realise their potential as future athletes and maybe one day even represent Cambodia at the Olympic Games."
… and in Afghanistan through sports
Similarly throughout Afghanistan, children are used to getting deliveries from the WFP at their schools to improve their nutrition. But in the past few months, packages of a different kind have been delighting children around the country: a donation of sports equipment from the IOC. Equipment including some 5,000 volleyballs, 3,000 footballs and 150 cricket kits has been given to both boys' and girls' schools in 13 of the country's provinces. From the local government to the children, reactions are the same.
For Abul Moqim Halimi, Head of the Department of Education in Panjsheer, one of the 13 provinces: "Development of society is connected to the development of children. If the children are healthy and strong, they will be able to play a key role in the development of their society and could properly lead the community in the future."
But the most moving reactions have come from the children at Rukha school themselves. Thirteen-year-old Ahmadullah showing an old football, explained: "I like playing football. A while ago, my friends and I contributed 20 Afghanis each (about 40 US cents) to buy a football, but it is very old now. There were some children who wanted to play but they had no money to buy a ball. Now with this new gear, everyone will be able to play." And 19-year-old Mohammad Ashraf says: "We are very happy to receive these things. We have space for playing but we didn't have the equipment. I've never played cricket before – now we'll get a chance to learn."
For more information, please contact the IOC Media Relations Team.
###