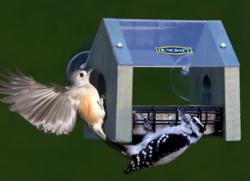 "Woodpeckers and even Bluebirds are right outside my window!" Barb, Duncraft customer
Concord, New Hampshire (PRWEB) February 14, 2012
Online buyers are more and more likely to research a product or service before they buy—in fact customers that do research spend seventy five percent of their shopping time online doing just that. Customers can research any number of ways, but reading customer-generated reviews tops other research methods by a large margin. Recently Duncraft added PowerReview Express to its webpages so Duncraft customers can now write their own reviews on Duncraft products.
Duncraft, a major online retailer of wild bird products such as bird feeders and bird houses, recently introduced PowerReviews Express to its product pages at duncraft.com. PowerReviews allows customers to read customer-generated reviews about products before they buy and also to rate products they have purchased. When rating, the customer is prompted to give the product an overall rating and then to enter pros and cons. They can also write in their own words and state whether or not they would recommend the product.
Since Duncraft can moderate the reviews, how is it fairly determined which reviews are published and which are not? Every company would want to see only positive reviews on all their products, but of course, that doesn't always happen. Perhaps a customer bought a bird feeder that may not be the best for the birds they want to attract—leading to a negative review of the feeder. Duncraft considers less than optimal reviews an opportunity! First, consideration is made to determine if the problem is really with the product, or is it a customer service issue? In this case Duncraft embraces the opportunity to contact the customer and help them find the perfect bird feeder for the backyard birds they want to see—turning a negative situation into a positive one. Duncraft publishes positive and negative reviews equally, because an issue one customer may have with product may not be a concern at all to another customer.
Although Duncraft relishes positive reviews, no matter how customers rate Duncraft's products, the feedback they provide is invaluable. It allows the company to continuously analyze products, improve copy to better inform customers about its products and to better understand the customer's wants and needs—all with the goal of making backyard birding as enjoyable as it can be.
Founded in 1952 and located in Concord, New Hampshire, Duncraft's objective is to bring the joy of backyard birding to wild bird lovers all across the country. Mike Dunn, owner and CEO is constantly inventing and searching for innovative ideas in bird feeding—giving bird lovers years of bird feeding enjoyment, success and satisfaction.
Duncraft Wild Bird Superstore
102 Fisherville Road
Concord, NH 03303
Phone: 603-224-0200
Fax: 603-226-3735
###