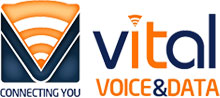 Working with Vital Voice and Data can save money and time for your organization and you will also be supporting a great cause.
- Russell Anderson, President and CEO
Long Branch, NJ (PRWEB) February 15, 2012
The telecommunications solutions firm Vital Voice and Data is marking its 10th Anniversary by giving something back to the community.
The company has formed a partnership with the Center for Vocational Rehabilitation, the American Red Cross and Big Brothers/Big Sisters. These organizations know they can look to Vital Voice and Data for a helping hand.
For its part, Vital Voice and Data will contribute up to 10 percent of its monthly customer payments to the Center for Vocational Rehabilitation's cause, which is to promote independence and provide vocational opportunities to people with special needs.
"Working with Vital Voice and Data can save money and time for your organization and you will also be supporting a great cause," said Russell J. Anderson, President and CEO of the Center for Vocational Rehabilitation.
Also as part of the company's 10th Anniversary, Vital Voice and Data has pledged to make 2012 their most successful year ever by bringing their highly effective, tailored telecommunications solutions to more clients.
Thousands of businesses across the US are missing out on great opportunities as a result of their outdated telecommunications strategies. Vital Voice and Data can modernize, optimize and refocus any company with a sub-standard telecommunications system.
What separates Vital Voice and Data from the competition is their dedication to tailor made, company-specific solutions. Few other telecommunications companies are as flexible as Vital Voice and Data, a group that treats each client as an individual with unique needs.
The firm kept their promises by consistently generating a profit for both their clients and themselves - an impressive feat considering that many of those years were during hard economic times for the US economy. This long running success hasn't gone unrecognized, and they have attained coveted industry awards and recognition on a number of occasions.
It goes without saying that they couldn't have done it alone. In addition to their roster of high-profile clients, Vital Voice and Data has always relied on strong partnerships with some of the most respected vendors around.
This has allowed them to remain consistent with high-quality services and products, further reinforcing their reputation as a top-tier telecommunications provider.
###