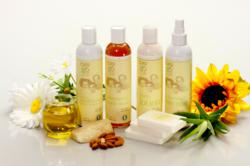 "I'm so excited to see CARA B Naturally get on the shelves! It's such a great brand for kids and having these products available nationwide will mean a lot for parents." Patrice Grell Yursik, Afrobella.com
(PRWEB) February 16, 2012
CARA B Natural Products, Inc., a company trailblazing new ground in the ethnic personal care category, has just launched their proprietary collection of all-natural skin and hair care products in CVS stores across the country, marking the company's second major national retail partnership within the last two months.
Since its introduction in 2009, CARA B Natural Products, Inc. has developed a reputation as one of the best emerging ethnic personal care lines on the market and the only line specifically formulated for ethnic children to be certified all-natural by the Natural Products Association. In January CARA B Naturally successfully launched in both Target stores across the country and on Target.com. With a steady climb in sales and a loyal following developed through focused grassroots marketing initiatives, CARA B Naturally's launch in CVS stores will allow for even broader exposure and solidify the brand as one of the first affordable, all-natural, ethnic personal care lines available in two major retail chains.
"We're very excited to launch CARA B Naturally in CVS", says the Company's Chief Executive Officer Landra Booker Johnson. "We really focused our early marketing initiatives on grassroots strategies, and connected with our customers who identified with our philosophy which is summed up by our tagline, "Children Are Always Beautiful, Naturally®". We learned quickly that our customers are loyal and wanted to have an option to conveniently purchase our products in nearby stores as well as online; having both CVS and Target on board helps tremendously."
The online natural hair community, already buzzing from the brand's launch at Target, is now buzzing even more as fans are gearing up for CARA B Naturally at CVS. CARA B Naturally's arrival in Target and CVS has been greeted with major social media chatter! Twitter and Facebook have been on fire with posts and tweets mentioning CARA B Naturally products.
Patrice Grell Yursik, the founder of Afrobella.com, one of the most popular beauty blogs for women of color, is thrilled about the continued evolution and growth of CARA B Naturally. "It's such a big and beautiful time for natural hair and skin brands, and I'm so excited to see CARA B Naturally get on the shelves! It's such a great brand for kids with natural hair and having these products available nationwide will mean a lot for parents who have been searching for the perfect natural products for their little ones." Patrice Grell Yursik, the founder of Afrobella.com
CARA B Naturally products enhance and promote the natural beauty of babies and children with varying skin types and hair textures, while avoiding the use of any synthetic chemicals that can harm delicate skin and hair. The line is made entirely with all-natural plant-based ingredients and is free of parabens, petrolatum, phthalates, sulfates, mineral oil, artificial fragrances and preservatives.
With the addition of a second national retail partner, complementing a strong and expanding presence in Whole Foods Market and other fine independent retailers, 2012 is poised to be another year of rapid growth for CARA B Naturally.
About CARA B Natural Products, Inc.
Co-founded in 2009 by Landra Johnson, CEO, and her sister Kristi Booker, Chief Marketing Officer, this minority-owned business is committed to promoting positive images for ethnically diverse children. CARA B Naturally is celebrating natural beauty and fostering healthier attitudes about how kids view themselves. From the Company mission and all-natural product formulations, to the high customer service standards and charitable giving program - everything at CARA B Natural Products, Inc. is based on the belief that Children Are Always Beautiful, Naturally®.
CARA B Naturally currently offers four certified all-natural personal care products for children of ethnically diverse backgrounds including Shampoo/Body Wash, Leave-In Conditioner, Moisturizing Hair Mist and Body Lotion. The Company plans to expand its product line in the coming months. To learn more about CARA B Natural Products, Inc. please visit http://www.mycarab.com.
###