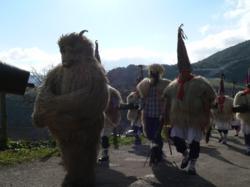 One of our goals at Northern Exposure Spain is for our clients to come away feeling as if they were truly locals
Santander, Cantabria, Spain (PRWEB) February 16, 2012
Northern Exposure Spain´s latest small group tour recently enjoyed a one of a kind, vibrant festival on a local level. A smaller celebration in Northern Spain such as the carnaval at Piasca in Cantabria provides the kind of unique travel experience that makes a vacation memorable. Northern Exposure Spain tour members participated in different colorful performances as various carnaval groups from across Northern Spain converged on this tiny village located in the heart of the Picos de Europa mountains.
Troupes from other regions of the country including Navarra, Galicia, Leon and Cantabria took part in the anything but ordinary festivities. Costumes included horned revelers in animal skin masks, troupes in sheep skins with clanging cowbells, dancing one man floats with colorful streamers and jumping harlequins decorated in vibrant colors and covered in bells. Live music including bagpipes, drums, tambourines, accordions and mountain singers added more traditional flare to the celebration. Watch a video of the celebration here.
Referring to his own experience as a seasoned traveler, Northern Exposure Spain CEO (Chief Experience Officer), Charles Schwalbe stated, "Some of my most memorable travel experiences around the world have been at small, local celebrations where foreign tourists aren´t commonplace yet are received practically as guests of honor. There is something very special about being made to feel you are part of the celebration rather than a mere bystander on the sidelines. One of our goals at Northern Exposure Spain is for our clients to come away feeling as if they were truly locals during their time with us on our Green Spain tour."
The idyllic setting made up of stone houses and walls, all surrounded by the snow capped peaks of the Picos de Europa mountain range provided the perfect framework for the unlikely scene. Could it have been the two paellas the size of small cars served for lunch? Maybe it was the bagpipe bands that played music and danced during the festival? Possibly it was the colorful and eccentric costumes worn by the carnaval goers? Perhaps it was hearing three different languages spoken by participants, including Spanish (Castillian), Basque (Euskera) and Galician? This unique carnaval provided a blend of unexpected elements that combined to pleasantly surprise Northern Exposure Spain´s tour group members. An experience they won´t soon forget.
"It was not the 'sit on the sidelines and watch' sort of a festival, we actually felt like we were a part of it. We had some great paella eating alongside the festival participants, were surrounded by all the jumping crazy costumed characters, I got 'attacked' not once but twice by a guy in a bear costume, we got to watch an impromptu jam session with some of the locals playing bagpipes, and when I had to use the bathroom, was invited into someone's home and then asked to stay for coffee! I just don't know where else this happens, it was a pretty unique cultural experience overall," recalled Northern Exposure Spain tour participant Lynne F. from Arlington, Virginia.
Carnaval is celebrated throughout most of Spain, with Cadiz in Andalucia and Tenerife in the Canary Islands being the most famous, but smaller, lesser known celebrations such as the one at Piasca in Cantabria, Northern Spain offer a different perspective. Travelers interested in learning more about Northern Exposure Spain´s unique custom tours of Northern Spain can visit http://www.northernexposurespain.com or contact Charles Schwalbe directly at 888-737-8146.
About Northern Exposure Spain
Northern Exposure Spain provides unique, custom tours in Northern Spain. Based in Cantabria, at the heart of Green Spain, the company tailors tours to client preferences and interests, highlighting the history, cuisine, culture and natural beauty of the area.
###