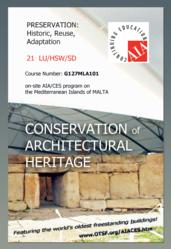 Sustainable design and environmental consciousness does not come any more original than this!
Msida, MALTA (PRWEB) February 23, 2012
Six-thousand-year-old ancient structures are a starting point for an illustration of a multi-disciplinary approach to the preservation of historic properties. "Conservation of Architectural Heritage" will use classroom lecture, labs and escorted field trips to introduce a working concept of the marriage of architecture, archaeology and other sciences. Details of the course #G127MLA101 are available on-line at http://www.OTSF.org/AIACES.htm. Offered in both March and October 2013, the 10-day on-site course addresses options and methodologies for safeguarding irreplaceable built heritage, while still attending and protecting the needs of the modern public that seeks to experience it. Registered architects and designers will earn 21 Learning Units in the essential field of Sustainable Design.
The islands of Malta and Gozo, in the middle of the Mediterranean Sea, are home to a most remarkable concentration of intact built heritage, including the highest density of UNESCO World Heritage Sites in any nation-state anywhere in the world. Malta's patrimony in stone ranges from the oldest free-standing stone architecture in the world, to one of the British Empire's most formidable defensive systems, and includes a rich mix of domestic, religious and military architecture from the ancient, medieval and early modern periods. Participants in this course will be introduced to these challenges by a team of specialists who are actively working on different aspects of the preservation of Malta's built heritage.
The course includes visits to several of the most salient of the island's monuments accompanied by a heritage conservation specialist, and which will be used as case studies to illustrate and stimulate discussion of some of the management and conservation challenges presented in the course lectures.
By introduction to many successful examples of adaptive reuse over centuries, participants will gain experience and inspiration for application in their practice. They can expect to design new public projects with a fuller historic understanding of the evolution of monumental architecture, particularly the world's purest and most original expression of sensitivity to the union of nature and preplanned enclosed ceremonial space. Most attendees will also correct their education about the beginning of architecture.
Malta and Gozo are home to megalithic structures that were created by a highly developed people more than a thousand years ahead of Stonehenge and the pyramids. The earliest known use of forecourts, retaining walls, and ring compression systems are evidenced in megalithic construction. Malta's extraordinary Hal-Saflieni Hypogeum mirrors design features of the temples including corbelled ceilings in a superb subterranean example of architecture in the negative. Ongoing research by the University of Malta in the field of archaeoacoustics and the sound behavior of the Hypogeum have been introduced on major television networks.
For a free brochure, email postal address to AIACES(at)OTSF(dot)org
The course is provided by the Florida-based nonprofit OTS Foundation and the University of Malta's Faculty for the Built Environment. OTSF is a registered provider for the American Institute of Architects, has operated for Elderhostel and currently runs a Malta program for the Road Scholar organization of adventures in lifelong learning. Educational outreach about Malta's megalithic legacy and new research in the field of archaeoacoustics are currently being prepared by OTSF for a travelling lecture in the USA.
###