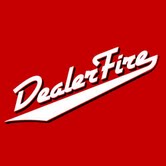 Oshkosh, WI (PRWEB) February 15, 2012
DealerFire, a custom automotive website provider and digital marketing firm based in Oshkosh, WI is excited to announce they recently were the recipient of "Top Rated" Website Provider award in the third annual DrivingSales Dealer Satisfaction Awards, presented in conjunction with the 2012 National Automobile Dealers Association (NADA) Convention and Expo.
Owner and Founder Eric Hoopman was present to accept the award. "Achieving this level of satisfaction from our customers and earning this award is very much attributable to our strong Midwestern, hometown values. I think it shows day in and day out within the support from the DealerFire team, we love what we do and we have a lot of fun doing it. It's a great mix for an exceptional customer experience," said Hoopman.
For over ten years, DealerFire has been working side by side with dealerships, successfully assisting them as they grow and expand their digital presence. The distinction they create in the industry with their custom automotive websites and automotive digital marketing strategies keeps them, and their clients, performing as leaders.
The DrivingSales Dealer Satisfaction Awards measure dealer satisfaction by allowing dealers to rate and review their vendors at DrivingSales.com Vendor Ratings, the industry's only neutral, comprehensive vendor rating forum featuring real-time peer reviews and honest competitor comparisons. Only vendors who achieved top rankings in dealer satisfaction in each category, as determined by the thousands of auto dealers who are part of the DrivingSales.com community, received awards. The awards also incorporate the results of the 2011 Vendor Ratings survey, which was deployed to nearly 18,000 dealerships nationwide.
"We are proud to present a DrivingSales Dealer Satisfaction 'Top Rated' Website Award to DealerFire for achieving the most coveted accolade of all, the satisfaction of its dealer customers," said DrivingSales CEO and Founder Jared Hamilton. "This award, based on the direct input of the dealer community, recognizes service providers like DealerFire who are leading the way in innovation, performance, and customer service. We congratulate DealerFire on their excellent results and for achieving the satisfaction of their dealer customers."
"Our team is looking to 2012 with a tremendous amount of enthusiasm! With a focused management team, sharpened internal processes and an exciting product release schedule in place, we feel well positioned to offer great value to our dealer customers and all of their digital marketing efforts." said Hoopman
For more information about DealerFire's award winning custom automotive websites and digital marketing, please visit http://www.dealerfire.com
###