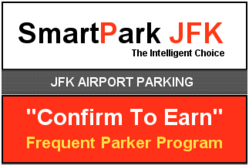 It is time Westchester and the counties north of New York City knew of other value added parking options such as SmartPark JFK
South Ozone Park, Queens, NY (PRWEB) February 16, 2012
SmartPark JFK has announced the company's decision to extend its marketing efforts for their JFK off airport parking service into the commercial hub of Westchester County - White Plains, N.Y. as well as Dutchess and Putnam Counties. All travelers are eligible to earn free days with the SmartPark JFK "Confirm To Earn" Frequent Parker Program.
SmartPark JFK's Airport parking business extends far beyond the needs of the immediate New York City travelling public. SmartPark JFK wants to alert the travelers outside of the 5 boroughs that there is an alternative to the high cost on-site JFK airport long term parking lots. SmartPark JFK offers a value added service that includes luggage support, valet parking and on-demand shuttle service; all of this for less than 50% off the airport terminals parking rates. Forget about waiting for black car services and rides from relatives. Travelers can save money on their next trip by parking at SmartPark JFK.
"SmartPark JFK understands that there are Westchester Airport parking problems and they cannot always handle the volume of parking spaces as needed. Travelers shy away from Westchester Airport airport (also known as White Plains Airport) for that reason; they don't want to be turned away from the public parking lot at the moment they need to depart. So we've tripled our reach in the immediate tri-state area through aggressive online marketing. These great efforts have improved our visibly and have given travelers another option for travel out of JFK Airport," according to Diego Ullauri, Operations Manager for SmartPark JFK.
"At SmartPark JFK we know that not everyone chooses, nor can everyone fly out of Westchester County Airport / HPN Airport / White Plains Airport. Westchester Airport parking is just not a viable option at this time. So we've tripled our reach into the immediate tri-state area through aggressive online marketing. These great efforts have improved our visibility and have given travelers another option for travel out of JFK Airport," according to Diego Ullauri, Operations Manager for SmartPark JFK.
Instead of driving directly to the high cost parking fields located off the Van Wyck and the JFK Expressway, travelers can take their car to SmartPark JFK and save money, time and effort while ensuring a safe and secure parking option. The associates at SmartPark JFK take care of; parking customers cars, loading and unloading luggage and transporting travelers to the correct departure terminal.
"It is time Westchester and the counties north of New York City knew of other value added parking options such as SmartPark JFK. We have a safe, secure and full service parking solution that actually saves time and money. The issue is getting the word out. I grew up in Yorktown Heights and all we ever heard about were the horror stories about JFK Long Term Parking (huge parking fields, trudging luggage over asphalt to bus stops and other urban legends); we created SmartPark JFK to remove that worry and stigma that many suburban travelers have about JFK parking. Off-site parking has been around for over 20 years at JFK Airport. Some parking operators are better than others; SmartPark JFK has improved the model and continues to strive by improving customer service and advancing the technological side to parking," says Adam Smith, President of SmartPark JFK.
SmartPark JFK has a number of initiatives including free reservations through their website landing page http://www.smartparkjfk.com; there travelers can get a local fee comparison, a no obligation rate quote disclosing all fees, automatic inclusion in our Frequent Parker Program called "Confirm to Earn" (CTE). Smith points out that the "CTE" program is the first parking loyalty program; that we know of; designed to allow the customer to administer the use of their points. The parker can manage, acquire and keep track of their free days; it is up to the customer to use them for personal use or business it is totally in their control."
SmartPark JFK is introducing more parkers to the off-site option than ever before. Despite the growing volume of traveler; SmartPark JFK still feels like they can reach more travelers. The goal is to reach residents living north of NYC in Westchester County that may not already know of the SmartPark JFK Airport parking facility.
"Our ultimate goal is to offer the best possible, value added JFK Airport parking experience. Parking your car when you travel isn't sexy, but it shouldn't cause angst either. Our goal is to inform travelers from Westchester and the northern counties about other parking and transportation options. We will try our best to include more and more free days and incentives in serving our customers," said Smith.
The company recently announced that customers have already earned tens of thousands of points leading to thousands of free days. Even those that do not park that often still earn points and free days towards their future reservations. No customer is excluded.
###