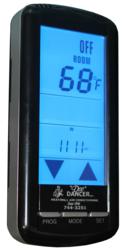 Indianapolis, Indiana (PRWEB) February 15, 2012
With over 10 million homes in the United States having gas fireplaces, HVAC contractors are missing out on a great opportunity. FiresideFriend™ from Jackson Systems is a family of remote controls for gas fireplaces. HVAC contractors who work with gas furnaces will find that these remote controls can be easily offered to homeowners. FiresideFriend™ remote controls provide convenience and comfort, along with safety and increased energy savings for homeowners. Servicing and maintaining gas fireplaces also makes a great add-on to service agreements, providing contractors another profit making opportunity.
"We at Jackson Systems are excited about introducing FiresideFriend™ as our latest line of products and services. FiresideFriend™ is a group of remote control products for fireplaces which will allow HVAC contractors to provide yet another service to their valuable clients. The contractor can also differentiate themselves from the competition by providing an additional service during their preventative maintenance agreement visits by maintaining gas fireplaces for their clients. The consumer benefits from having a safer and more efficient heat source with the added convenience of a remote control for their fireplace," says Kurt Wessling, Director of Sales at Jackson Systems.
To learn more about FiresideFriend™ from Jackson Systems, please call 1.888.359.0365 or visit http://www.firesidefriend.com.
About Jackson Systems:
Jackson Systems is the leading direct-to-contractor HVAC controls manufacturer and a major distributor of other leading control brands. Founded in 1997, Jackson Systems today is one of the fastest growing companies in the Midwest, serving customers worldwide.
Jackson Systems sets the standard for excellent service and support teams to help our customers achieve greater profits. Our quality, contractor-friendly control products paired with free, same-day shipping make Jackson Systems your direct choice for controls. For formal quotes, design assistance or additional information, visit http://www.jacksonsystems.com or call 888-652-9663.
###