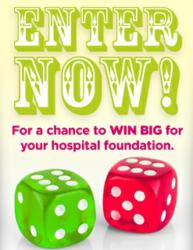 We wanted to do something fun that also allowed us to give back to the healthcare community.
Sarasota, FL (PRWEB) February 15, 2012
Voalté, the leader in innovative mobile clinical communications technology and software for healthcare institutions, announced it is hosting Chips for Charity on Feb. 21 from 5:15 p.m. to 6:30 p.m. PST during the HIMSS 2012 Conference in Las Vegas. Voalté will donate up to $1,000 to each of the participants' charities based on the results of a "Craps" benefit game to be held at The Venetian Hotel.
Voalté is inviting hospital executives attending HIMSS to register for the Chips for Charity event where five lucky individuals will be chosen to participate. Each individual picked from the drawing will be notified via text message and Twitter (#chipsforcharity) that they have the opportunity to play.
"We wanted to do something fun that also allowed us to give back to the healthcare community," said Vice President of Innovation Trey Lauderdale. "Everyone will also enjoy the special celebrity appearance planned."
Each participant will be armed with $500 in chips donated by Voalté, and will have the opportunity to parlay that $500 donation into $1,000 or more toward their hospital charity or foundation.
"We encourage other HIMSS attendees to join us and to cheer on their fellow executives," said Lauderdale.
For more information about Voalté's Chips for Charity event, and to register for the event, please visit http://www.voalte.com/Chips-for-Charity.aspx
About Voalté
Voalté provides compelling software solutions for healthcare institutions that solve communication problems at the point-of-care. Voalté products are designed to be intuitive, high value, mission critical applications running on the latest generation of touch-based smartphones. For more information, visit http://www.Voalte.com or call 941.312.2830.
###