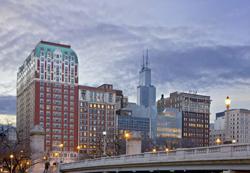 Chicago, Illinois (PRWEB) February 15, 2012
Can't get enough of election year excitement? Then head straight for the The Blackstone, A Chicago Renaissance Hotel. Regardless of where your party loyalties lie, the historic address on Chicago's South Loop has long been a player at the highest levels of U.S. politics, hosting a dozen Presidents and providing us with the famed "smoke-filled room." The Blackstone's NEW Presidential Package is just the ticket to fuel your adrenaline for this year's race to the White House.
Nicknamed "The Hotel of Presidents" for good reason, The Blackstone has welcomed everyone from William Howard Taft to Richard M. Nixon on one side of the aisle and Woodrow Wilson to Jimmy Carter on the other since opening in 1910. The hotel even has special POTUS-worthy guest quarters with hollowed walls to aid the Secret Service.
FDR, Truman and Eisenhower all caught wind of their respective nominations while checked into The Blackstone. And when cigar-puffing Republican kingmakers holed up at the hotel to broker the 1920 nomination of Warren G. Harding, an imaginative Associated Press report described their accommodation as a "smoke-filled room." The phrase has been among the most colorful in our political parlance ever since.
Whatever your political preference, you'll get a chance to live like a fat cat with the Presidential Package at The Blackstone, including:

Overnight accommodation in the Smoke-Filled Room
Private check-in by your personal "Navigator"
Presidential dinner, prepared personally by Executive Chef Eric Liebtag
Personalized turndown amenity of favorite Presidential treats reflecting your party affiliation:
- For Democrats: Obama's milk chocolate and Clinton's cinnamon rolls and pies.
- For Republicans: George W. Bush's peanut butter and jelly sandwiches and peanut butter candy and Ronald Reagan's jellybeans.

The Presidential Package starts at $500 based on double occupancy; package valid through Election Day, November 6, 2012.
To reserve a Presidential Package at The Blackstone, A Chicago Renaissance Hotel, please contact 312-447-0955 or visit http://www.blackstonerenaissance.com
About the Renaissance Blackstone Hotel:
The Renaissance Blackstone Hotel, a downtown Chicago luxury hotel located on Michigan Avenue near Grant Park, has been a favorite of movie stars, sports legends, royalty and presidents since 1910. Thoughtfully restored to its original grandeur, this Michigan Avenue hotel features French Beaux-Arts architecture and over 1,400 contemporary works by local artists. The Renaissance Blackstone boasts stunning guest rooms and suites, while Mercat a la Planxa serves modern Catalan cuisine in a unique Mediterranean setting. The hotel offers 328 rooms, 4 suites and 11,396 sq. ft. of lavish meeting space. Located just steps from Chicago's major attractions including McCormick Place, Grant Park, Soldier Field, Art Institute of Chicago, Field Museum, Millennium Park, Navy Pier and Shedd Aquarium. To learn more about the Blackstone Renaissance Hotel visit http://www.blackstonerenaissance.com, Like them on Facebook.com/TheBlackstoneHotel or follow the hotel on @blackstonehotel.
###