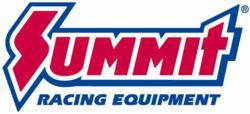 Control up to two stages of nitrous and record data from all input/output devices
Tallamadge, OH (PRWEB) February 14, 2012
Summit Racing Equipment now stocks the new NyTrrex NpC nitrous controller/data logger. It allows independent programming of throttle position, rpm, vehicle speed, time delay, and first gear lockout. The data logger records dyno or drag racing sessions, storing the last five minutes of data logged. The general purpose input/output terminal is programmable for use as shift light output, additional stage enable input, or control output for ignition retard. The status LED output can be used as an illuminated system arming switch.
Other features include:

PC graphic interface programmability, data logging, and real-time parameter viewing
Two flexible 0-5 V analog inputs for logging sensor outputs such as wide-band O2
Programmable auto-purge when system is armed
Heavy-duty industrial grade clamping terminal blocks
Part Number: DEI-160030
Where to Get One: Order online at SummitRacing.com or call Summit Racing at 1-800-230-3030.
###