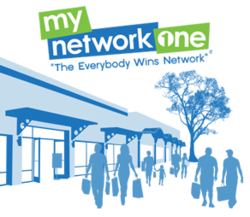 The MyNetworkOne dashboard is all about the consumer and their ability to customize their dashboard to what's important to them while also giving the local business owner a platform to connect with consumers that is unlike anything in the marketplace."
Tampa Bay, FL (PRWEB) February 16, 2012
MyNetworkOne will become the new way to connect local economies all across the nation. It is a marketing system that has one goal in mind, to help businesses deliver their message. Every business needs customers calling them on the phone, walking in their door, or visiting their website. This was true 20 years ago and will be true 20 years from now. The problem is that business owners continually struggle with finding the time as well as how to leverage the ever changing multitude of new online media outlets. MyNetworkOne is here to help local businesses prosper and thrive and to also keep "The American Dream" alive.
MyNetworkOne leverages small business networking with local consumers and organizations. The networks are localized, and each of the local networks are owned and operated by "network directors" who live in these local communities. MyNetworkOne bridges the gap between consumer and business owner making it effortless to communicate, offer local deals, create incentives for purchase, and allow referrals to be passed between consumers and business owners.
Aside from consumers and business owners, local charities and charitable organizations can benefit from MyNetworkOne as well. Technology has changed nearly every aspect of how we live, communicate, and stay connected. Fundraising is no different. MyNetworkOne has combined technology with the every growing popularity of online "Daily Deal" coupons and entered the world of "value driven" fundraising. Charities and organizations can share in the proceeds of "Daily Deals" purchased. Consumers are able to support their favorite charity all while saving money on goods and services they already purchase. This is the reason MyNetworkOne is "The everybody wins network".
At every point in a business owner's life the question of how to increase business becomes apparent. My Network One and the entire corporate team are trying to solve this problem. Let MyNetworkOne show businesses how. To learn more go to MyNetworkOne.com.
# # #