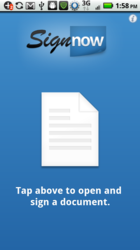 "Signing documents should be much easier than it is. The majority of people print, sign, fax or scan, then email documents. SignNow eliminates all those steps." Chris Hawkins, CEO
Newport Beach, CA (PRWEB) February 15, 2012
Orange County startup SignNow, launches its Android application in a string of mobile product releases beginning this month. The Android app hits the Market February 15th and is free to download.
The SignNow app allows users to open documents and add a signature by using their finger to draw right on their mobile device. With a single tap, the user is given the choice to open a document from their email or Dropbox. They can also take a photo of a document and add their John Hancock.
The beauty of the SignNow Android app is its simplicity. The entire process is three steps.
1. Import your document
2. Sign your document
3. Email and/or Save your document
Founder and CEO, Chris Hawkins, said:
"Electronic signatures are part of our everyday lives; we use them more than we realize. But when a deal needs to get done, or a contract needs to be signed, the majority of people print, sign, and fax or scan and email. SignNow eliminates all those steps. Whether you're signing a loan document, a proposal agreement, a job offer letter, a lease, a new patient form—anything that needs a signature—you can sign and return it in less than a minute from your mobile device. That's the speed at which the world today moves and we are confident that anyone who uses SignNow once will appreciate its elegance and ease of use."
In 2000, President Clinton passed the U.S. ESIGN ACT that says a contract or signature "may not be denied legal effect, validity, or enforceability solely because it is in electronic form". This means that electronic signatures are not only acceptable, but are legally binding and subject to the same scrutiny of authenticity that applies to paper documents.
"Big business has been using electronic signing for years and with great success. We want everyday people to be able to legally sign any document for free and help the environment in the process. The two, (kind of lousy) printers in our office are gathering dust as we speak. I can't honestly tell you the last time we used them. "
About SignNow.com
SignNow is the free and easy way to sign documents and much more. Our goal at SignNow is to let everyone sign agreements anywhere they want using any device, and then to make those agreements easy to enforce. SignNow hopes to eliminate the question, "Did this person actually sign this document?"
SignNow is an independent, privately held company headquartered in Newport Beach, California. Major investors include Khosla Ventures.
For more information on SignNow.com please visit http://www.signnow.com
Heather Gulino
SignNow.com
hgulino(at)signnow(dot)com
# # #