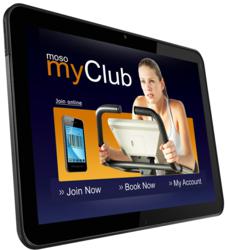 Above all else, myClub facilitates sign-ups at the ZMOT, the Zero Moment of Truth, when prospects are most interested in starting a path to fitness
Rockville, MD (PRWEB) February 14, 2012
Club Management Software & billing leader Motionsoft will preview the newest features of their myClub online member portal in a live webinar February 15th featuring CTO Shane Edmonds.
myClub adds online member services to gym's websites including sign-up, account management, class scheduling, & club usage reports for health insurance reimbursement. The functionality works with Motionsoft's MoSo, CX and eClub club management platforms.
"myClub is the triple threat tool in our Get, Keep & Know your members approach to heath club and fitness management," said Edmonds. "It increases sign-ups, member engagement, and provides actionable data about members usage that allows operators to understand what members are seeking in their gym experience and helps them customize that experience."
"Above all else, myClub facilitates sign-ups at the ZMOT, the Zero Moment of Truth, when prospects are most interested in starting a path to fitness," said Al Noshirvani, CEO of Motionsoft. "As soon as they start down that path, our member management suite uses smart technology to keep them engaged with the club for fitness success."
The webinar will take place at 1:15pm ET. Interested parties can register for free at: https://www2.gotomeeting.com/register/481224394
About Motionsoft
Motionsoft is a member relationship management software and billing provider, recently ranked among the top 1000 of America's fastest growing private companies in Inc. Magazine's Annual 500/5000 Report, and in the Deloitte Technology Fast 500 as well as IHRSA's 2011 Associate Member of the Year. Motionsoft counts Equinox, Crunch, Gold's Gym, Akron General and Starbucks among their 2500 clients in the active lifestyle industry. On July 5, the company launched MoSo, a small, medium & enterprise level cloud-based business & member management software solution.
###