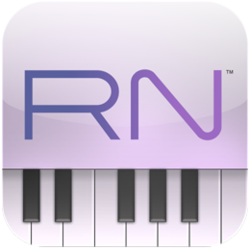 The meaningful and modern way to play piano.
San Diego, California (PRWEB) February 15, 2012
Rolling Note, LLC (http://www.rollingnote.com) has launched the RollingNote app, which uses interactive video game technology to replace sheet music with simple scrolling notes, making it fun and easy to learn piano songs. RollingNote empowers anyone to learn piano on their own time, play songs they love, choose level of difficulty and tempo, and track progress to help develop skill. Beginner or expert, RollingNote provides music lovers an online song store and a Player application that runs on Mac, Windows or iPad.
Donavon Guyot, Founder at RollingNote, explained, "We believe everyone should be able to play piano. We also believe music artists deserve to get paid for their work. RollingNote is focused on developing practical tools that give fans a hands-on musical experience, which in turn helps artists keep creating the music they love. Another objective of RollingNote is to support music instructors, with the goal of giving them more tools and ultimately more students. RollingNote can provide extra support to anyone taking lessons."
RollingNote brings a unique facet to each song by allowing customers to choose skill complexity from a progressive selection of song levels and providing the option to grade and score playing. Customers select a song level to learn at their own pace and practice using left, right or both hands. Playing can be graded and scored in real-time to monitor and share performances.
Rob Costlow, Contemporary Pianist and General Manager at RollingNote, explained, "Being a modern musician, it is increasingly difficult to keep album sales going in a positive direction. RollingNote will be a new revenue stream for the music industry and provide the lion's share of profit back to the artists. Hit video games prove that fans can have tons of fun simulating instruments, but why stop there? RollingNote provides a similar experience to teach piano and engage fans."
RollingNote is adding new piano songs every week and currently offers dozens of classical, traditional, and standard songs for customers to learn. RollingNote will soon offer contemporary music and work with various artists and publishers to make their songs available on the RollingNote Player.
About RollingNote
RollingNote supports music artists and helps people of all ages and skill levels learn to play piano in a meaningful and modern way.
RollingNote is persistently working with customers, musicians, educators, gaming and tech experts to transform traditional piano instruction.
# # #