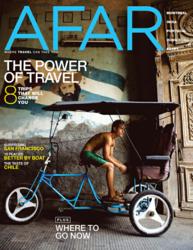 "In every way, AFAR is essentially offering a complete eco-system for experiential travelers. The app will only enhance that."
San Francisco, CA (PRWEB) February 14, 2012
Derek Butcher, Chief Technology Officer at AFAR Media, announced today that the AFAR mobile app is now available in the iTunes App Store. A departure from traditional travel/photo-sharing tools, AFAR has tapped into the power of community and the network by creating an app that – in conjunction with the media company's other platforms – intuitively enables experiential travelers.
AFAR.com and the mobile app connect users with others who seek meaningful travel experiences, both within their social networks and beyond them. Travelers can browse, discover, and share trip "Highlights" - a photo with a short description, geo-tagged by location – which act as online bookmarks to offline experiences. Travelers can browse Highlights when they're dreaming of a trip, remembering one, or planning their next trip.
"There are many photo sharing apps out there," says Butcher, "but they are more of an unstructured stream of content. Once something falls off the end of the stream, it is gone. AFAR's app encourages the user to give more context to the experience than just a photo, and then we index and categorize all of the individual experiences, creating a repository of great travel experiences that are easily discoverable based on where you want to go and what you want to do."
AFAR.com Out of Beta
Fresh out of beta, AFAR.com has a new homepage that now offers a selection of featured highlights, questions and answers from users, curated content, video, and the popular Spin the Globe feature.
Upending the model where travelers get inspiration offline from travel magazines and go online for booking and other functions, AFAR is focusing on an enriched online experience through a streamlined mix of content and community. Users initially come to the site to browse, dream, be inspired. That evolves into searching and saving information during the planning process, making valuable connections with an engaged community that shares knowledge – as well as a mindset – before, during and after travel. The company also plans to add a transaction capability in the future.
"We want to be a resource for the entire travel process, from inspiration to being there," says Butcher.
"Plus, we are a media company with a breadth of curated and user-generated content in the magazine and online. In every way, we are essentially offering a complete eco-system for experiential travelers. The app will only enhance that."
ABOUT AFAR MEDIA
AFAR is the multi-platform travel media brand that inspires and guides those who travel the world to connect with its people, experience their cultures, and understand their perspectives. Headquartered in San Francisco, with an office in New York City, the company launched in 2009. Its platforms include the award-winning AFAR magazine, now celebrating its second anniversary and awarded the Best Travel Magazine in America; AFAR.com, recently named a Top 10 site That Makes Travel Easier; the non profit foundation Learning AFAR; and immersive travel series AFAR Experiences.
COTACT: Shelley Tatum Kieran, shelley(at)afar(dot)com, 650.380.2552
# # #