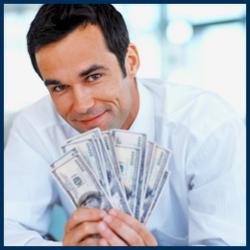 Readers' amazing stories motivate LFE to continually discover new money-saving strategies and expose the latest scams that rob money from uninformed consumers.
Springfield, MO (PRWEB) February 15, 2012
The LFE Institute is celebrating helping its readers save more than $1 million in its milestone 200th issue of its weekly e-learning series, the Money Minute! With the Federal Reserve reporting an increase of $64 billion in consumer credit card debt in the fourth quarter of 2011, and the 2012 SHRM Survey stating that the biggest financial challenge for most employees is the lack of funds to cover personal expenses, helping employees stretch every dollar is more important than ever before.
The Money Minute! covers a broad range of up-to-the-minute topics to help readers save money, identify helpful financial resources, and expose predatory lenders and scam artists. In just minutes each week, readers can learn timely techniques to stretch their paychecks, prevent costly mistakes, and improve their financial literacy.
"When we published our first issue, we had no idea it would have such a dramatic impact on the financial lives of our readers," states Alice Whinnery, CEO of the LFE Institute. "Their amazing stories motivate us to continually discover new money-saving strategies and expose the latest scams that rob money from uninformed consumers."
LFE also offers a comprehensive measurement tool that demonstrates an employee's growing financial knowledge and skills throughout the year. Employers use this as part of their Financial Wellness Initiative.
This publication is also available through Credit Unions, banks, CPAs, benefit providers, and advisory firms.
The weekly Money Minute! is part of LFE Institute's comprehensive Financial Wellness Program, which also includes skill-based Financial Education workshops and e-mail based Money Coaching for corporate employees, as well as Personal Financial Education (PFE) for individuals and couples.
About the LFE Institute: The LFE Institute provides full-service, unbiased Financial Wellness solutions, including skill-based on-site and Web-based workshops, personal Money Coaching to help employees make smart day-to-day financial decisions, and a weekly educational series, the Money Minute! LFE also helps individuals and couples through its Personal Financial Educators (PFEs). Since 1986, LFE has helped well over 500,000 employees nationally build specific skills to stretch their paychecks, reduce debts, and avoid financial traps. LFE sells no products or services other than unbiased education.
###