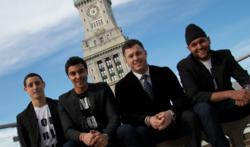 "I have never met a team that is more passionate about their brand than the NiL guys. Before I invest in anything I must believe in the idea, and most importantly believe that the entrepreneurs are capable of executing.
- Andrew Bachman
Boston, MA (PRWEB) February 16, 2012
Startup Now Is Life would like to officially announce its collaboration with investor Andrew Bachman. Now Is Life is a lifestyle company aiming to remind people and empower them with the message that now is the only moment of your life.
Avid angel-investor, Bachman will join the company as they look to start manufacturing the first ever Now Is Life watches with French designer Julien Bergignat. Bachman, having already succeeded in his own ventures such as Tatto Media and Scambook, is now looking to invest in people and companies with new and exciting entrepreneurial startups. Now Is Life has stood out as a unique company with a powerful message that has the potential to impact people from all walks of life.
Born out of recognition that most people live their lives solely concentrated on the future, three students from Babson College, Pranav Chaudhry, Joey Roth and Santi Srichawla, started the company with the aim of changing attitudes and lives. The message of the company, which is supported and embodied by Bachman, is to appreciate the present moment without constant worries or plans for the future. The company hopes that with Bachman onboard they will be able to spread this message and influence people's lifestyles throughout the world.
# # #