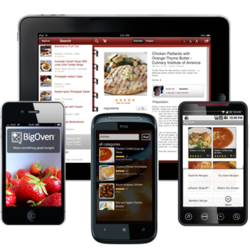 BigOven is the first recipe organizer to offer easy import from paper or web
Seattle, Washington (PRWEB) February 16, 2012
BigOven (http://www.bigoven.com), whose award-winning apps get millions of cooks inspired and organized, today announced updates to its popular recipe organizer which allow users to easily add recipes from other websites to their personal, private collection.
Once stored in a cook's personal Recipe Cloud™, recipes can be easily resized up or down, customized to suit personal tastes, added to a Menu Plan for the week, or accessed from any major smartphone, web browser or tablet. The recipe remains in the user's private collection for on-the-go reference, searchable by ingredient, tag and more.
The brand new "Add by URL" feature complements BigOven's revolutionary RecipeScan(tm) feature announced in 2011 (http://www.bigoven.com/recipe/scan), which lets anyone snap a photo of a handwritten or typed recipe and automatically add it in digital recipe form to their personal collection. Unlike other document management apps like Evernote or Google Docs, BigOven actually structures the data as a recipe -- complete with ingredients, instructions, cuisine and more -- that can be resized up or down, added to a grocery list or menu plan, tagged, searched by ingredient, automatically analyzed for nutritional content, customized with variations, and much more. Grocery list items are automatically sorted by aisle, and can be emailed to others.
"BigOven is the first recipe organization application to support easy import from paper or web", said Steve Murch, BigOven's founder and head chef. "It's perfect for digitizing your recipe collection, whether it's handwritten heirloom recipes from your family, or the latest recipe from your favorite food blog. You can save time and money by planning meals days or weeks in advance, and never forget anything at the grocery store."
BigOven membership is free, and the Add by URL feature is available with BigOven PRO membership, priced at $15.99/year. A free 30-day trial is available at http://www.bigoven.com.
About BigOven
With more than 7 million downloads of its award-winning, free mobile apps, and more than a million registered members, BigOven gets home cooks organized and inspired in the kitchen and on the go. BigOven lets home cooks search over 200,000 recipes, share their own creations, post recipe photos, reviews and more, all in one convenient location, ready for easy grocery list creation, and available whenever and wherever they would like.
BigOven apps are available for iPhone, iPod, iPad, Android, Android Tablet, Kindle Fire, Windows Phone, and the Web.
Winner of the Parent Tested, Parent Approved Seal of Approval 2012, and "Best Recipe App" Readers Choice by About.com 2011, BigOven has earned accolades from users and press alike for its ease of use, powerful organizing features and wide selection of recipes. BigOven was created by Steve Murch, an avid home cook and Internet entrepreneur, with executive experience from Expedia, Microsoft, and VacationSpot.com. For more information, visit BigOven online at http://www.bigoven.com.
# # #