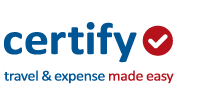 Savings of over $33 per individual processed expense report.
Portland, Maine (PRWEB) February 16, 2012
Certify, a leading online travel and expense management company, proves to be an effective tool for driving corporate profitability through its innovative expense reporting and travel booking solutions.
With the improving economy and increase in travel and expense related spend, the need for corporate travel policy analysis and enforcement is increasing. The 2011 Aberdeen Group Report, Expense Management for a New Decade, found 39% of companies view expense management as a critical function in their organization while finance departments are facing stronger pressures to increase corporate policy compliance while driving down company spend.
A solution to the financial pressures companies are facing is to implement an integrated travel and expense management solution. Travel and expense management services are designed to be a practical and affordable solution to help companies:

Book online travel and insure corporate policy compliance at the time of reservation
Automate expense reports reducing the time spent by employees and managers
Provide data analysis on expense reports by category, department and date range
Identify policy violations for review and audit with management notification
Workflow routing and approval process for all T&E spend
Corporate credit card integration services with policy enforcement
Integrated A¬CH service provides rapid employee reimbursements
According to a recent report conducted by The Aberdeen Group (http://www.Aberdeen.com), 87% of companies implementing an expense management solution experience increased compliance to corporate policies relating to Travel and Expense (T&E). In addition, companies experience savings of over $33 per individual processed expense report by automating the expense report process. With the Certify Travel and Expense solution, clients are experiencing savings and spend management controls at or above these levels while also increasing employee and manager satisfaction regarding the travel and expense report process.
To learn more about how Certify can increase your companies policy compliance and drive down travel and expense costs visit http://www.certify.com.
About Certify
Certify, LLC, is an online travel and expense management company that provides expense report and travel booking solutions to corporations and individuals. The company provides a true SaaS on-demand travel and expense management solution which is easy to use, quick to deploy and affordably priced for clients of all sizes. Founded in 2008, and headquartered in Portland, Maine, Certify is financed by the founding team and a group of angel investors. For more information about Certify please call 207.773.6100 or visit http://www.Certify.com.
###