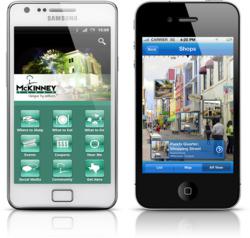 "We recognize that the best information companion when experiencing a destination is the mobile device you're already carrying."
Dallas, TX (PRWEB) February 14, 2012
Aria, a Dallas-based interactive agency specializing in destination marketing, today announced a new partnership with Triangle Studios that will bring customized mobile applications to tourism destinations throughout Texas and America. Triangle Studios, with offices in both the United States and the Netherlands, is a world-recognized leader in mobile application development.
Each smartphone app created for destinations is designed to showcase tailored information, and guide visitors to each area's particular points of interest, including where to eat, where to sleep and what to do.
"We recognize that the best information companion when experiencing a destination is the mobile device you're already carrying. We wanted to bring a solution to market that is both feature-rich and reasonably priced for destinations of all sizes," said Ryan Thompson, Founder and CEO of Aria. "With the Triangle partnership, we have a proven mobile application on multiple platforms that incorporates cutting edge functionality, including couponing, itineraries, and augmented reality using GPS and imagery. Today, only the largest destinations can afford to build such custom features. Our solution makes it available out of the box, at price points starting south of $10,000."
Major features of the fully customizable app include:

Itineraries and checklists for visitors based on interest
Entertainment directories that list events to experience, activities to do, or restaurant reviews
Map integration for quick and easy directions using Google Maps Navigation
Augmented reality using GPS to allow a 3D experience right on your mobile screen
Social media integration
Partner advertising with deep analytics and measurement tools to prove performance and engagement
"Early versions of the app were immediately popular for tourism. Partnering with Aria allows us to reach a broad destination marketing audience, allowing Triangle Studios to keep focusing on the latest developments in hardware and technology, making sure we offer the best solutions for our clients." said Remco de Rooij, CEO at Triangle Studios.
Versions of the app are available now for destinations like McKinney, TX and the islands of Curacao, Aruba, Bonaire and St. Maarten where unique features like currency converters, offline maps and RSS feeds were built-in, native to the app, and are updated by tourism officials easily and frequently from any internet-connected computer.
J.R. Atkins, Chief Client Strategist at Aria, will be leading the effort to bring the app to market and shares in the excitement of the increased opportunities for interaction between traveler and destination. "Mobile apps are revolutionizing travel, bringing together location and event information with the latest technology and creating a truly unique experience."
Visit http://aria.co/mobile for more information and to learn how this new technology can be applied to your destination.
Aria is a Dallas-based, results-focused digital marketing agency.
Multiple award-winning design firm Aria is a Dallas-based, results-oriented digital marketing agency.
With more than a decade in business, their agile team of strategists, communication architects, creatives, technologists and marketers specialize in producing sound, results-oriented, right-tool-for-the-job, unforgettable brand experiences. http://ariaagency.com
About Triangle Studios
Originally founded in the Netherlands, Triangle Studios is a company that has its origin in the business of video game development. Since three years, the company has been working on designing and developing high quality, cutting-edge software applications for smartphones. http://triangle-studios.com
###