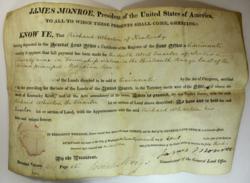 Another moment of history has been acquired by Great Estate Roadshow with the purchase of the Kentucky Land Grant signed by both President James Monroe and Commissioner of the General Land Office James Meigs
Atlanta, GA (PRWEB) February 15, 2012
Another moment of history has been acquired by Great Estate Roadshow with the purchase of the Kentucky Land Grant signed by both President James Monroe and Commissioner of the General Land Office James Meigs. This particular Kentucky land grant sold a quarter lot to Richard Wharton and the sale was conducted in Cincinnati, Ohio on April 27, 1819. This document includes the embossed wax seal. Great Estate Roadshow purchased the historic document recently in Dallas, Texas.
Great Estate Roadshow is the largest purchaser of gold, silver, antiques, and collectible items in the United States. Great Estate Roadshow is now in Seattle and Oak Harbor, Washington; Fort Worth, Texas; Indianapolis, Indiana; Rochester, New York; Louisville, Kentucky; Gettysburg, Pennsylvania; and Oklahoma City, Oklahoma, from Wednesday, February 15th through Saturday, February 18th seeking to find a similar unusual item to add to their acquisitions.
Each week in every city that Great Estate Roadshow has events, typical purchases include the discovery of rare coins such as a three legged buffalo coin, coin collections, silver ware, and old swords. Additionally, in each city—small or large--a person comes in with an item that he or she believes is not worth much; however, because of our extensive list of collectors throughout the country, the item is worth much more. The customer leaves happy with more money than expected. Experience for yourself the next find that Great Estate Roadshow will uncover in your city as Great Estate Roadshow contributes to the community by funding additional revenue for the consumers.
For more information, please contact Howard Klotzkin at (908) 265-8307.
# # #