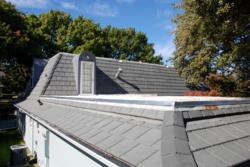 With the dramatic weather changes we've experienced recently it's no wonder homeowners name durability as their number one influencer when considering the purchase of a new roof.
- Ray Rosewall
President and CEO
DaVinci Roofscapes
Kansas City, KA (PRWEB) February 22, 2012
In the 2011, DaVinci Roofscapes' Homeowners Exterior Preferences Study, more than 1,000 homeowners* overwhelming indicated that durability and longevity were the two key aspects that will influence the type of roof they purchase for their homes in the future.
Results of the nationwide consumer study, conducted by Harris Interactive©, show that 88 percent of the respondents indicate that the durability of a roofing product will have "a lot of influence" on the product they select when it comes time to purchase a new roof.
"Extreme weather events have increased in frequency and severity in the past decade and that has changed the way people think about their roofs," says Ray Rosewall, CEO and president of DaVinci Roofscapes. "It used to be that if you lived in the southern states, winter weather was mild. Now those same states routinely experience the damaging winds and hail that were only seen in the warmer months in the past.
"These weather events are increasing in frequency and severity and are now occurring in almost every state. With the dramatic weather changes we've experienced recently it's no wonder homeowners name durability as their number one influencer when considering the purchase of a new roof."
When do homeowners plan to replace their roofs and what influences that decision? In the same study, 65 percent of homeowners indicated they would be prompted to replace their roof if it became damaged from severe weather. Another 23 percent reported that their current roof is old and will soon need to be replaced, with an additional 13 percent indicating that their roof is near the end of its warranty and needs to be replaced.
Top 10 Influencers
Homeowners ranked the following factors as having "a lot of influence" in the decision-making process for the type of new roof to purchase:

88 percent – Durability
83 percent – Longevity/Built to Last
72 percent – Low/No Maintenance
71 percent – Resistant to Severe Weather
69 percent – Has a Warranty
57 percent – Fire Resistancy
55 percent – Material Roof is Made Out of
50 percent – Price
41 percent – Colors Available
24 percent – Complements the Neighborhood Setting
"Everyone is cost conscious but it's interesting to see that homeowners are putting more
value on the inherent quality and durability of the alternatives when looking at the cost of a new roof," says Rosewall. "We believe this truly reflects the thought process of the homeowner that a roof is an investment in their home, and as such, they will get more value from a quality roof versus a lower cost bargain-basement priced roof.
"Every feature rated by homeowners on this top 10 list of roofing purchase influencers is available in our polymer shake and slate roofing tiles. With a 50-year warranty, DaVinci roofing tiles are a solid investment in an easy-care roof that's built to last and give the homeowner peace-of-mind."
DaVinci Roofscapes has manufactured award-winning polymer slate and shake roofing since 1999. The roofing tiles are virtually maintenance free and far more cost effective than the natural product. DaVinci leads the industry in tile thickness, the tile width variety and the greatest selection of subtle earth-toned colors. Company products have a 50-year warranty and are 100 percent recyclable. DaVinci proudly makes its products in America and is a member of the National Association of Home Builders, the Cool Roof Rating Council and the U.S. Green Building Council. For additional information call 1-800-328-4624 or visit http://www.davinciroofscapes.com.
RELEASE: http://mediaroom.davinciroofscapes.com/2012/02/what-homeowners-want-from-their-roofs/
PHOTOGRAPHY: Contact Kathy Ziprik at kziprik(at)aol(dot)com or visit the Media Room http://mediaroom.davinciroofscapes.com and click on the Image Gallery.
Study Methodology
This 15-minute survey was conducted online within the U.S. by Harris Interactive on behalf of DaVinci Roofscapes among 1,005 U.S. homeowners age 40+ with household incomes of $150,000 or more and who own a single-family home of at least $400,000 in value in the South and Midwest, at least $500,000 in the Northeast and West (excluding California) and at least $700,000 in California between November 22 and December 13, 2011 (percentages for some questions are based on a subset, based on their responses to certain questions). Figures for age, sex, race/ethnicity, education, region and household income were weighted where necessary to bring them into line with their actual proportions in the population. Propensity score weighting was also used to adjust for respondents' propensity to be online. Because the sample is based on those who agreed to participate in the Harris Interactive panel, no estimates of theoretical sampling error can be calculated.
About Harris Interactive
Harris Interactive is one of the world's leading custom market research firms, leveraging research, technology, and business acumen to transform relevant insight into actionable foresight. Known widely for the Harris Poll and for pioneering innovative research methodologies, Harris offers expertise in a wide range of industries including healthcare, technology, public affairs, energy, telecommunications, financial services, insurance, media, retail, restaurant and consumer package goods. Serving clients in over 215 countries and territories through its North American and European offices and a network of independent market research firms, Harris specializes in delivering research solutions that help its company --- and its clients --- stay ahead of what's next. For more information, visit http://www.harrisinteractive.com.
*For the purposes of this study, homeowners are defined as those age 40 or older with household incomes of $150,000 or more and who own a single-family home of at least $400,000 in value in the South and Midwest, at least $500,000 in the Northeast and West (excluding California) and at least $700,000 in California.
# # #