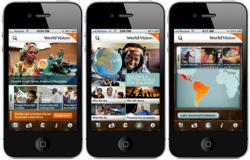 Seattle, WA (PRWEB) February 21, 2012
LiveAreaLabs, a creative marketing and technology agency is pleased to announce the launch of World Vision Now, an iPhone app that publishes information about international humanitarian issues to a user's iPhone, iPad, or iTouch.
Designed as a "personal passport" to global news, World Vision Now is an effective mobile platform for humanitarian organization World Vision to publish inspiring news and information that rarely makes mainstream news. With its easy-to-use layout, the app includes stories about the struggles and triumphs of children and their families in developing nations, award-winning documentary photography, and videos that capture the organization's work in action. Full integration with social networking sites allows users to share stories and videos with others.
"We are thrilled with World Vision Now because it gives us a simple way to publish the stories of people we are helping and create awareness around global issues," says Roger Flessing, Vice President of Communications at World Vision. "We are looking forward to working with LiveAreaLabs on other initiatives to expand our presence on other mobile platforms."
The World Vision Now app is available free of charge at the iTunes store: http://itunes.apple.com/us/app/world-vision-now/id476094433?mt=8
About World Vision
World Vision is a Christian humanitarian organization dedicated to working with children, families, and their communities worldwide reach their full potential by tackling the causes of poverty and injustice. The organization serves the world's poor—regardless of religion, race, ethnicity or gender. For more information, visit: http://www.WorldVision.org
About LiveAreaLabs
LiveAreaLabs® is a creative marketing and technology agency. We create brands people love and activate them across all digital media. We believe brands can elevate themselves through the LiveAreas® they create—places where people and brands connect through experiences people choose, share in, and promote.
We partner with clients throughout North America to deliver branding, ecommerce, mobile, consumer applications, and digital marketing solutions. Clients include Brooks Sports, The Coffee Bean & Tea Leaf, Fila, Lifetime Brands, London Drugs, Lush, Meredith Wendell, Moving Comfort, Urban Decay, and Virgin HealthMiles. For more information, visit: http://www.livearealabs.com.
###