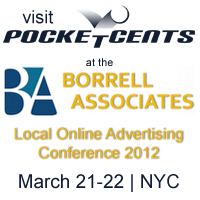 "In a recent study released by ComScore, 31% of online advertisement impressions went unseen. This really shows the advantage of performance-based, pay-per-click advertising." - Phil Kanaby, CEO PocketCents Inc.
Shelby Township, Michigan (PRWEB) February 14, 2012
PocketCents will be exhibiting at the Borrell Local Online Advertising Conference that will be held this March in New York City. The local online advertising industry has been rapidly expanding in the recent years, and PocketCents has been a front-runner and pioneer of local technology throughout this expansion. By putting local first and building the technology around it, PocketCents has been able to leverage local audiences from generic user traffic. This philosophy has proven to be popular for both local advertisers and publishers alike as it has over doubled in size since last year. Also, PocketCents has released exciting new products and will attempt to wow attendees with a new local coupon system and mobile advertising.
Both coupon and mobile systems were created out of the perceived demand that the advertising market needed low-cost alternatives. Advertising has become competitive and expensive, and PocketCents is seeking to appease this dejected market by offering powerful services at low, fixed prices. Created as an alternative to costly "daily deal" sites which take a portion of the sale, PocketCents Coupons are 25 cents per print and utilize geolocation technology to target local shoppers. These coupons act like regular coupons and can be redeemed in-store at the point of sale. Also having local in its forefront, PocketCents has integrated mobile GPS into it's network somewhat ahead of the curve. PocketCents anticipates these new services will help narrow the marketing gap between the advertisement and the sale and bring local advertisers to their network. Come see PocketCents exhibit these new services at the Borrell Local Online Advertising Conference this March.
About PocketCents:
PocketCents, Inc. (http://www.pocketcents.com) is a Local Online Advertising Network specializing in promoting small and local businesses through pay-per-click targeted advertising banners on websites and mobile devices. The PocketCents network has publishers in the U.S. and around the world displaying more than 3 million ads per day. Advertising media types include traditional banner advertisements, local coupon advertising, pop-up local video ads, and now premium mobile advertising.
###