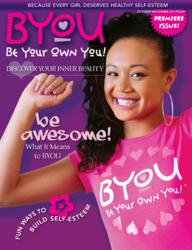 Our goal is to keep girls empowered during this vulnerable age so they can become a positive force in tomorrow's world."
Denver, CO (PRWEB) February 15, 2012
The new girls' self-esteem apparel & education company BYOU - Be Your Own You™ has launched its own magazine for girls ages 7-15 titled Be Your Own You! The magazine focuses on building confidence, inner beauty awareness, and making a difference in the world, and features exclusive interviews with today's positive celebrity role models, empowering stories of 'real' girls making a positive impact, and powerful self-esteem tips, projects, quizzes, puzzles and more – all encouraging girls to 'be your own you.'
"We have created the perfect balance of entertainment and education; teaching self-esteem in fun, yet powerful ways that makes a long-lasting impact on a girl's life," says publisher and BYOU President & CEO Debra Gano. "We feature stories and information on current topics and challenges girls face today, such as bullying and body image, offer positive self-affirming messaging, and, of course, celebrity involvement! Our goal is to keep girls empowered during this vulnerable age so they can become a positive force in tomorrow's world."
The magazine's premiere cover girl, 15-year-old Cymphonique Miller, is also the company's celebrity spokesperson. In addition to being a popular teen singer & actress with her own show just launched on Nickelodeon, Cymphonique is a passionate advocate for girls' empowerment highlighted in her interview included in the first issue.
"My main goal is always to uplift, motivate, and encourage others to be the best they can possibly be," says Cymphonique.
BYOU – Be Your Own You™ was formed in collaboration with Cymphonique Miller for the purpose of becoming the first apparel brand focused solely on instilling positive self-esteem and self-image for "tween" girls from ages 7 to 15. Along with the company's apparel brand and educational programs, Be Your Own You! magazine continues the company's primary mission: to build girls' self-esteem worldwide by encouraging them to embrace the unique and authentic self they came to this world to be.
# # #