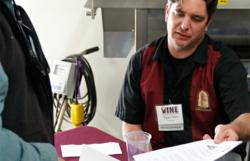 As fast as we learn new aspects of viticulture, it seems like we're facing new challenges. Continuing education events like VINE are essential resources for the wine grape growing community.
Paso Robles, Calif. (PRWEB) February 15, 2012
Stressing premium wine grapes may be exalted as a way to achieve wine greatness, but too much stress can be bad for both the vine and the wine grape grower. The 2011 vintage was certainly stressful for growers and vines alike – so it's no accident that stress will lead the topics for discussion at the 2012 Central Coast Vine Symposium. The two‐day conference and trade show will be held March 6‐7, 2012 at the Paso Robles Event Center. The meeting provides continuing education for the California wine grape industry.
The theme for the 2012 is "Learning from Adversity: turning yesterday's challenges into tomorrow's opportunities." Several top‐notch speakers from the viticulture industry including Premiere Napa/Sonoma plant physiologist, Mark Greenspan, Ph.D., and renowned Central Coast winemaker, Ken Volk, will be among those to address these two distinctively different, yet intrinsically tied topics.
Greenspan is the owner of Advanced Viticulture in Sonoma County. He has a master's degree in viticulture and a doctorate in agriculture engineering from the University of California, Davis. Greenspan has extensive experience in vineyard mineral nutrition, crop load management, vineyard uniformity, grape maturation and numerous vineyard technologies. At the VINE wine production conference, he will discuss how to identify vine stress, how vines respond to stress and what to do about it.
"A little bit of certain stresses is a good thing and can allow the grower to create better wine in the vineyard," Greenspan said. "Because there are numerous stresses that grapevines face every single year, all year long, sometimes stresses can be used to the benefit of quality for fine wine grape production. Sometimes those same stresses can reduce quality."
According to Greenspan, since stresses often occur together, it's important for growers to know which factor is most important so they can take the appropriate corrective action. "I approach viticulture from a fundamental scientific foundation and bolster that foundation with observations from experience. Many wine grape growers may have more experience than I do, but perhaps less scientific training."
Greenspan hopes his scientific background and approach to the subject will help wine grape growers better understand the "why" behind their wine grape growing experiences.
Ken Volk, who has been putting his footprints on vineyard soils for more than 30 years, said 2011 was stressful for growers and winemakers alike.
"Last year may have been one of the worst growing seasons I've seen on the Central Coast," Volk said. "It was one of those times when life gives you lemons, you need to know how to make lemonade."
Volk said he noticed that some of the typical strategies used to combat common vineyard management problems didn't work last year. At VINE, he will review some of these problems and offer his observations. He'll also give some insight on how growers and winemakers can work together throughout the wine grape growing season to address these problems and reduce their impact before the fruit gets to the winery.
"It goes without saying that the 2011 growing season was stressful," said VINE host and plant
physiologist, Lowell J. Zelinski. "But this is what makes it such a great wine grape education opportunity for the industry. We've brought together an excellent panel of speakers to address topics from early season frosts to bunch rot at harvest, and how these problems impact both the vines and the wines."
Many of the presentations at the viticulture production conference will focus on the onslaught of weather, pest and disease problems that riddled the 2011 growing season. Speakers will talk about what they were, what can be learned from them, and how to use this knowledge to mitigate them in the future.
Other speakers include: Cal Poly State University, San Luis Obispo professors, Thomas J. Rice, Ph.D. and Keith Patterson, Ph.D.; University of California Cooperative Extension Farm Advisor, Kurt Hembree; California State University, Fresno professor, James A. Kennedy; plant physiologist, Lowell J. Zelinski, Ph.D. and broker Todd Azevedo from Ciatti & Company. There will also be a panel discussion on fungal and bacterial diseases featuring the following pest control advisors representing three Central Coast regions: Scott Williams, Pacific Vineyard Management; Mike Hollarman, Crop Production Services; and Daryl Salm, Paraiso Vineyards.
The Central Coast VINE Symposium is a valuable resource for the wine grape industry. It is the only viticulture production conference and trade show dedicated solely to wine grape growing held on the Central Coast. It's a great opportunity for members from all facets of the industry to learn, network and earn valuable continuing education units.
"Continuing wine grape education events like VINE are essential resources for the grape growing community," Greenspan said. "As fast as we learn new aspects of viticulture, it seems like we are always facing new challenges. Growers cannot rest on their laurels and must stay fresh. Conferences like VINE help them do so."
Early registration discounts for the VINE Symposium are available through February 15, 2012. For a complete list of speakers and topics, to register or for more information about the Central Coast VINE Symposium, visit http://www.vinesymposium.com or call (805) 434‐3331.
###