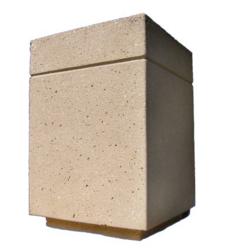 Manchester, CT (PRWEB) February 16, 2012
Dawn Enterprises is a manufacturer and provider of concrete, stone, metal, fiberglass, and plastic site furnishings. Recently having expanded the line of Concrete Planters, the new 2' Square Concrete Planter demands the attention of architects, landscapers, schools and commercial property managers.
This 2' Square Concrete Planter defines quality and craftsmanship and exceeds industrial strength concrete with a minimum rating of 5000 psi at 28 days. Due to the weight of this planter, 635 lbs, it's heavy enough to deter theft and can also serve as an aesthetically pleasing security barrier.
It features a bold and modern design that will enhance the look of your property and its durable construction makes it a long-term solution to showcasing your plants. A popular choice for high traffic areas, such as building entrances and parking lots! This 2' Concrete Planter can also be used inside courtyards, malls, and expo centers, as a way to bring more plant life to your surroundings.
The dimensions of this 2' Square Concrete Planter are: 23.75" L x 23.75" W x 34.5" H, and it is available in a variety of colors to fit your design theme. For more on our concrete planters please visit us at http://www.godawn.com/category/planters.htm. For more information on our other products, including benches, tables, bollards, and more, please visit our website http://www.godawn.com.
###